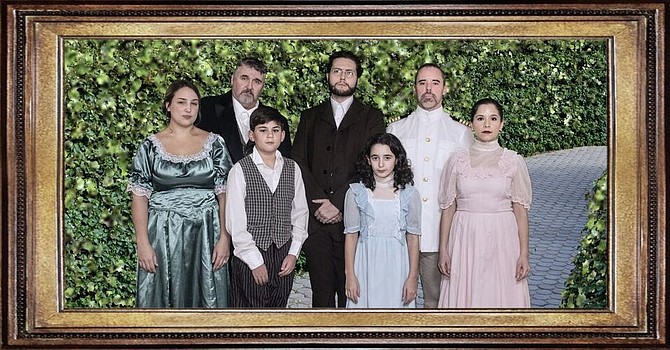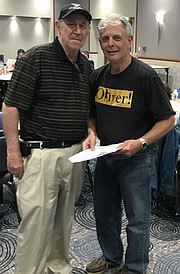 "'The Secret Garden' is all about second chances and realizing one's potential when in a different environment. Many of the characters are damaged and unhappy but with nurturing and care, they become fuller people that they didn't know they could be. Just like a garden that some may write off as 'dead,' people can be rejuvenated with work and love." Paul Rossen, vocal director for "The Secret Garden" defines the essence of this inspirational play — a performance that will delight and invigorate audiences of all ages.
The Har Shalom Players (HSP) — a cast of 51 including students from five area schools — will perform "The Secret Garden" at Congregation Har Shalom's Burke Sanctuary with performances at 8 p.m. on Saturday Jan. 27 and at 4 p.m. on Sunday, Jan. 28.
The production team for this year's musical is led by Shelly Horn (director), Marci Shegogue (orchestra director), Paul Rossen (vocal director) and Ken Lechter and Stew Remer (producers).
In this production, a young girl wants to "make things grow." Her story, written by Frances Hodgson Burnett more than a hundred years ago is still transformational. The musical tells the story of 11-year old Mary Lennox, a girl raised in India during the 1920s who was sent to live with her only remaining relatives in Yorkshire, England due to her parent's death from cholera. Her guardian is her uncle, Archibald Craven, a hermit who lives in a secluded and haunted manor on the British moors. Inside his manse, she finds a collection of reclusive and long-suffering souls including her uncle's invalid son, Colin who bears the weight of his mother's death on his shoulders. When Mary discovers her Aunt Lily's secret garden, she stubbornly decides she is going to restore the garden and once more make it beautiful and full of life. Surrounded by the "spirits," Mary brings peace and happiness to the home, demonstrating the power of one small girl.
Meredith Abramson will be performing the lead role of Mary Lennox — she is new to HSP this year. "I'm enjoying trying theater in the round and playing Mary, who is very bratty and withdrawn at first, but then becomes more mature. I feel I am a bit like my character because we are the same age and we both like a little bit of drama. Also, Mary tries to help her cousin Colin and I think I would also try to help if I were her," she said. Meredith has performed in productions at Rockville Little Theatre and at the Kennedy Center.
Patricia Groisser is playing the role of Martha, the chambermaid. "I play the role of Martha who has a special fondness for the children — and is somewhat of a child herself," she said. "A young woman who has had a life of hard knocks but is filled with optimism. I certainly share Martha's optimistic outlook on life most of the time, and one might say I don't act my age. The role however, is a bit challenging: learning an accent and singing in a vocal style and range I was not accustomed to was a wonderful growth experience." She is performing for the second time with HSP and said, "HSP is an incredibly warm and welcoming community — it feels like family all gathered in our living rooms to plan a sing along. Members of this family are incredibly talented, dedicated and supportive — many of whom have been performing or working with HSP since it began 13 years ago. While I have experienced a similar sense of warmth and family in other community theatre companies, at HSP I have felt especially welcomed — even after a 7 year hiatus — it is as if I had never left. I have loved seeing the same familiar friendly faces."
Stew Remer is again serving as co-producer with Ken Lechter. He has been involved with HSP since the beginning 13 years ago. He helped to create HSP as a community builder for the synagogue and to involve their many talented members in a fun and enriching activity. Since the first musical, lasting relationships have been formed and fostered. He said, "We are fortunate to have a combination of highly talented actors who perform regularly with us as well as around our community. Our cast has worked especially hard during rehearsals to learn the difficult vocals and I am looking forward to them 'wowing' our audiences with their incredible talent. Seeing our production will give them the opportunity to see the novel come alive in a musical format with enchanting and haunting melodies that enhance the story line."
General Admission tickets for "The Secret Garden" are $22 for adults and $18 for children (12 and under). Chai Patron tickets, which include guaranteed front row seating, a voucher for intermission refreshments, reserved parking, and special recognition in the playbill, are $180 each. Patron tickets, which include reserved/preferential seating, reserved parking, and special recognition in the playbill, are $100 for adults and $36 for children (12 and under).
Tickets can be purchased online at www.harshalom.org/play or https://tinyurl.com/hspthesecretgarden For information on group sales, email play@harshalom.org or call 301-299-7087. Ticket pick up and check-in begins one hour prior to the show.