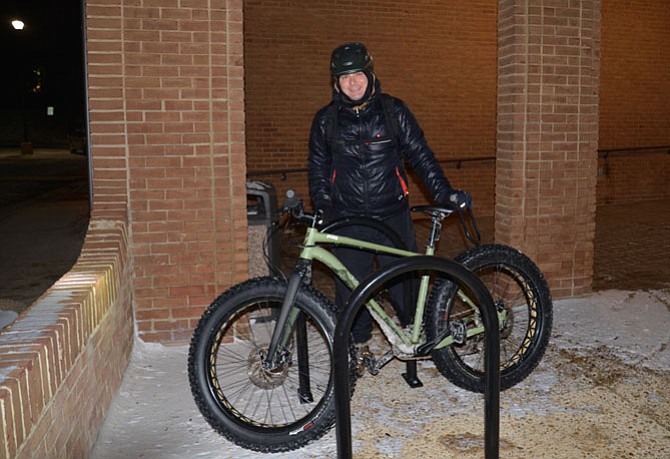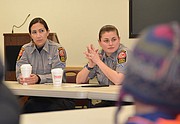 At its first monthly meeting of the New Year, the Fairfax Alliance for Better Bicycling (FABB) got right to work, inviting two Fairfax County Traffic Safety Police Officers to attend and expand the dialogue between law enforcement and cyclists in the county.
FABB member Charlie Bobbish introduced Officers PFC Sheila Ayers, and PFC Christina Gaizick and began the conversation by asking them to comment on the "state of traffic safety" in Fairfax County.
Safety of all county residents is a priority, according to Ayers, be they drivers, cyclists or pedestrians, but the officer added that she and her colleague were particularly pleased to be invited to the FABB meeting to gain a better understanding of the concerns of the pedal-powered citizenry and to have an opportunity to discuss safe cycling practices and education.
According to Ayers, statistics show a decrease in cycling-related incidents, with only one fatality recently reported in 2015. Early figures for 2017 indicate 72 reportable bicycle incidents, although the fact that there are no clearly defined categories for bicycle accidents in the statewide reporting system TREDS (Traffic Records Electronic Data System) and that "reportable" incidents must meet a $1,500 damage or a reportable injury threshold in order to be included in the TREDS data, left some attendees somewhat in doubt as to the accuracy or usefulness of the information.
Jeff Anderson, president of FABB, Steve Ward, the organization's secretary, and board member Bruce Wright all indicated that advocating for more specific reporting tools might be on the FABB work menu in the future.
SEVERAL QUESTIONS were posed to the officers regarding how to stay safe as a cyclist on the road, and what to do when witnessing or experiencing interaction with aggressive drivers.
Although the answers did not provide the cyclists with many solutions, Ayers and Gaizick both stressed that the first thing to do was "get out of the way and be safe." Even when the incident is not deemed "reportable," the officers still encouraged the riders to "be the best witness you can be and call it in." Calling in and providing as much detail about the alleged offender is still helpful, and could cause the police to issue a "look out" for the vehicle.
In addition to the presentation and conversation with Ayers and Gaizick, a report by Sally Smallwood, Safe Routes to School coordinator for Fairfax County Public Schools was on the agenda. Smallwood brought the members up to speed on educational events scheduled for Fairfax County schools, a significant donation that would allow for a number of shareable bicycles to be purchased for several elementary and middle schools, and preparation for this year's "Bike to School Day" scheduled for May 18.
Smallwood also wanted to spread the word that nominations for Outstanding Crossing Guard of the Year for 2017 were still wanted, with the deadline being Jan. 26 for the Feb. 14 announcement of the honorees on Crossing Guard Appreciation Day. Anyone can nominate a crossing guard by going to the Virginia Department of Transportation website at www.virginiadot.org and searching Safe Routes to School.
FABB encourages all cycling enthusiasts of all levels of ability and cycling usage to join their organization to stay informed, to be better educated on cycling safety, and to participate in social rides and other FABB activities. FABB is on the web at www.fabb-bikes.org and has a Facebook page, as well. Its next meeting is Feb. 21 at 7:30 p.m. at the Patrick Henry Public Library in Vienna.