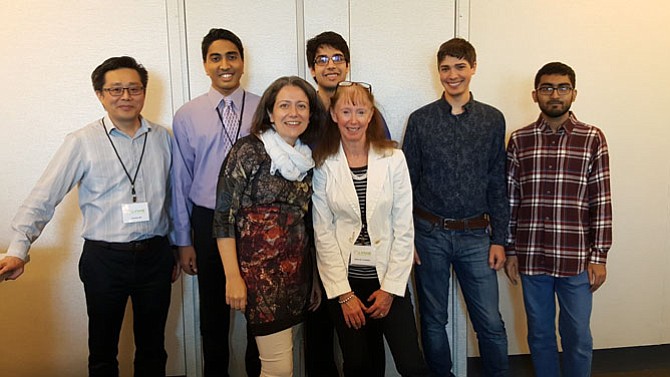 Burke resident and associate professor at GMU, Alessandra Luchini, Ph.D., is one of the winners in the second annual Lyme Innovation Hackathon held at the Spalding Rehabilitation Center at Harvard Medical School last October. Her team, which won $5,000, competed against 11 groups of about 50 top physicians, scientists, and business people from across the U.S. The Hackathon's goal was to make Lyme Disease easy to diagnose and simple to cure.
"I was very proud and excited, and it increased my confidence in the project and the idea behind the group project," she said of the award. "I loved the experience. It allowed me to interact with colleagues on site. I saw a lot of enthusiasm in young scientists and I think it works well for the democratization of science."
Lyme Disease is a tick-borne illness that is caused by bacteria transmitted via tick bites. In the U.S. alone, some 329,000 people are infected each year with the disease. In Northern Virginia, she said a lot of the ticks carry the disease that usually stay on the skin for 36 hours in order to transmit the disease.
She said the disease is thought to have multiple stages. It takes a few days or weeks for the body to recognize the bacteria and have the first symptoms, which is a skin rash with a circle, a white area and another circle – similar to the Target sign. If the disease is not treated, over the course of months it can give acute pain in the joints, and also neurological involvement, state of confusion in the brain, and a sense of weakness. For the long term, it can go in the heart. "It can be a serious condition if we don't treat it early," she said.
LUCHINI'S WINNING PROPOSAL was to develop mass spectrometry and nanoparticle technology so that it can evaluate tick-borne infections through urine samples, achieving a sensitivity that is greater than current methods.
She said diagnosing Lyme Disease is very challenging because the current tests have low sensitivity, so a lot of people go undiagnosed and they don't realize they have the disease; it can progress and cause serious health issues.
She said we currently have a diagnostic problem for Lyme Disease that is inconclusive and indirect. "What we are trying to do is have a better test that will tell people if they're sick right now," she said.
"The current test looks for the immune reaction that cannot tell you if you are currently sick or if you have been sick in the past…The current test is only 50 percent sensitive; you have the same chances of flipping a coin to see if you're positive or not," she said.
She continued, "We are looking for components of the bacteria in the urine. It's very hard because they're very rare. It's low quantities of the marker in the urine. So, at Mason we developed this technology that can concentrate markers. It's nanotechnology and it works like a lobster trap, so we are actually trapping markers inside these cages. They have a molecular bait that captures the markers. Now they are concentrated, and we can see them… What is cool about this project is we have a tool that can allow us to discover new markers and understand better how the bacteria behaves in the human body."
She said what was novel about this project is they can see any kind of marker that comes from this bacteria. "We use mass spectrometry, so the cool thing is up to this point, we know how the bacteria behaves in the lab, but we think when it's in the human body it behaves very differently."
"Having a direct test that measures components of the bacteria can help us identify the disease early and monitor if the therapy is successful," she said.
She said there were a number of IT experts and medical students present at the Hackathon who helped with the development of the project. "What we did was figure out how to validate this technology. Thanks to this event, we were able to put together a team with a larger number of patients to validate this technology."
While she was at the Hackathon, she said, "I was fortunate to meet Deborah Hoadley, a medical doctor and expert in Lyme Disease. She's been treating patients for ages. I met industry expert Charles Ma, so he gave insights from business on how to make the project more attractive."
An associate professor at GMU for 11 years, Luchini teaches an undergrad class on Infectious Disease and Society as well as a graduate class on Creativity and Innovation. She is originally from Udine, Italy, near Venice, and has a background in bioengineering. She originally worked with cancer diagnostics and infectious diseases.
THE LYME INNOVATION HACKATHON was sponsored by the Bay Area Lyme Foundation, in collaboration with Spaulding Rehabilitation Network's Dean Center for Tick-Borne Illness, Harvard Medical School Department of Physical Medicine and Rehabilitation, MIT Hacking Medicine, and the Veterans Affairs Center for Innovation.