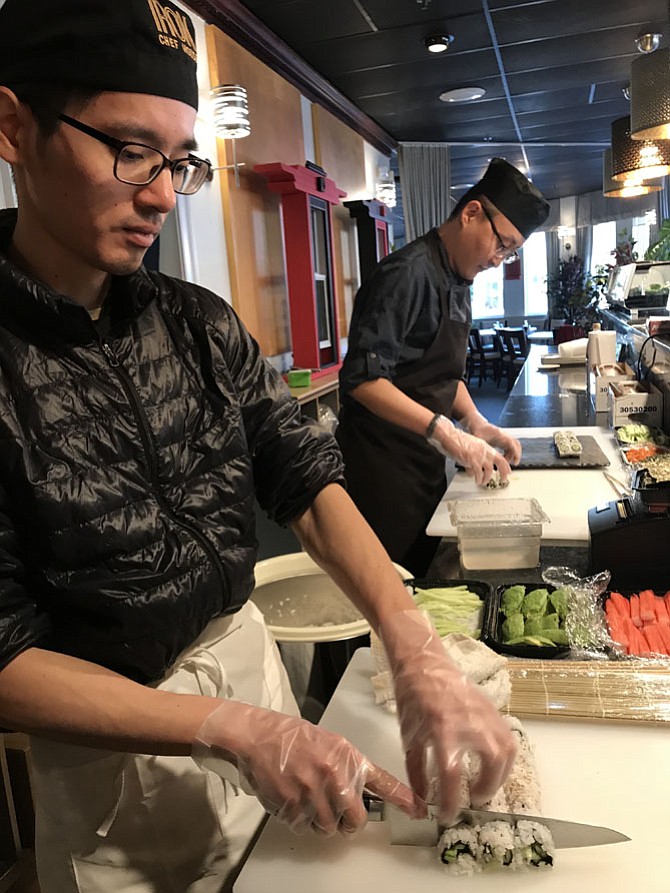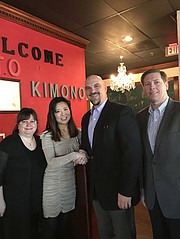 The Red Kimono Japanese & Korean Cuisine opened its doors to the public on Saturday, Jan. 27 after hosting a Grand Opening Day buffet of select dishes on Friday, Jan. 26, 2018.
New to Herndon, and located in the walkable historic downtown district, Red Kimono, sets itself apart in the town as the only Japanese Korean restaurant and as having one of the best Head Sushi Chefs in the area, Dongsoo Kim.
The venue offers a casual dining experience in a beautiful setting. The extensive menu features generous servings of authentic Korean and Japanese favorites, prepared with the freshest ingredients such as Korean Bibimbap, a dish of mixed rice with meat and assorted vegetables and Galbi, grilled ribs. Katsu, a Japanese dish of juicy chicken or pork in a crisp layer of golden panko breadcrumbs is served with its traditional thick savory-sweet sauce. With a large assortment of Bento Boxes and other specialties, there is something for everyone.
The restaurant prides itself most on the creation of its sushi, meticulously prepared with an eye for vibrant artistic color balance by Head Sushi Chef Dongsoo Kim of Centreville and Sushi Chef Zhen Chen of Vienna. Patrons can choose to dine at the sushi bar and watch the chefs or at tables and look out over the town center.
Aerin Chea of Herndon, the hostess at the Grand Opening, described how her father Yeong Chea, who owns the restaurant, decided to relocate his business and open in Herndon after having other restaurants in the Boston area. Chea told how the family had spent some time looking for a new location traveling up and down the coast. When they came to downtown Herndon, they knew this was the place.
"When we arrived, we saw a lot of people walking around...and we noticed there was no Japanese Korean restaurant in the area," she said.
Asked how it was to work with the town concerning permits and inspections, Chea exclaimed, "It was really easy. Town staff was very helpful to work with and very friendly. Dennis Holste, Economic Development Manager, checked on us several times to see if we needed help."
Red Kimono Japanese & Korean Cuisine, at 790 Station St., is open daily for lunch and dinner, Monday – Thursday 11:30 a.m-10 p.m., Friday 11:30 a.m.- 10:30 p.m., Saturday Noon- 10:30 p.m and Sunday Noon-10 p.m. Call 703-435-3515.