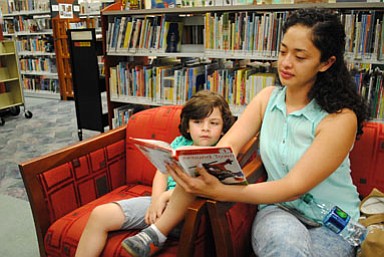 Great Falls — The Fairfax County Summer Reading Adventure has kicked off again this year and the Great Falls public library is joining in to give children the chance to turn summer reading into fun prizes.
"Reading Takes You Everywhere " is the theme this year of the program that began on June 15 and will continue until Sept. 1.
Preschoolers to 12th graders are challenged to read a set amount of books during the summer. Preschoolers through third grade read 15 books, fourth through fifth grade read 10 books and sixth through 12th grade read five books.

"The good thing about the program is that they can select any book that they want to read. It can be any book that we've suggested, a new book, or a friend recommendation or anything else. We just really want to promote the literacy with kids," said the Great Falls Library Youth Services Manager, Roxanne Ringer.

Once the set number of books is read, the children and teens are given a coupon book as the prize. The coupon book is filled with free and discounted offers such as a discounted half day row boat or canoe rental at Riverbend Park, one free round of FootGolf at Pinecrest FootGolf and a buy one admission, get one free at Splash Down Waterpark.
To register, children can sign up online at www.fairfaxcounty.gov/library or visit any Fairfax County library for a paper version of the reading log. They can bring in the paper log or show the online log on their phones to the librarians at the Great Falls Library.
"The goal of the program is to promote reading over the summertime and to keep kids interested in reading. It gives them something to look forward to when they can win a prize," said Ringer.
They have even more to look forward to throughout the summer. As part of the Summer Reading Adventure, the library hosts a variety of free events for children and teens of all ages.
Elementary students can join events such as a visit from My Reptile Guys on July 26 at 2:30 p.m. and Jacks are Wild! the performing Jack Russell terriers due on Aug. 1 at 2:30 p.m., while Middle and High School teens can learn hands on How to Draw Cartoons by Cartoonist Paul Merklein on July 25 at 2 p.m.
Preschoolers and families can participate in many activities as well such as Playdate Café on Fridays at 10 a.m. throughout July and August and PJ Storytime, which will have two upcoming meeting dates on July 31 and Aug. 28 at 6 p.m.
Ringer, who joined the Great Falls Library staff in January, said that morning events are more popular among the families and not many people have taken advantage of the evening events so far. She said she is really trying to encourage the evening activities this year. Before the summer ends, the library will be hosting a Summer Reading Ice Cream Social Celebration to celebrate the children of all ages who have participated in the program. The ice cream will be provided by the Great Falls Creamery and will take place on Aug. 23 at 1 p.m.
For a full list of calendar events, to sign up for the reading log, or any other information, visit the Great Falls Library at 9830 Georgetown Pike or visit www.fairfaxcounty.gov/library.