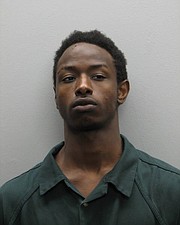 A suspect is in custody and charged with the murder of Resham Bajgain, 40 of Herndon, a gas station clerk working the night shift at the SUNOCO gas station in the 13300 block of Franklin Farm Road, according to Fairfax County police.
The police report states that after 1:15 a.m. on July 4, patrol officers responded to a call for a robbery at the gas station. Police arrived within three minutes and found Bajgain of Herndon with blunt force trauma to the upper body.
According to the department news release, officers observed a person matching a description of the suspect. They released 911 descriptions record saying, "subject is a black male wearing a black bandana, no shirt, black pants." Officers arrested 19-year-old Mohamed A. Abdullahi of Herndon in the parking lot. Abdullahi is being held at the Adult Detention Center without bond and is charged with murder. No recent charges could be found for Mohamed Abdullahi in online court records.
Bajgain, a recent immigrant from Nepal, worked two jobs; a full-time job at Wegmans and a part-time job at SUNOCO. Reports provided on a gofundme page to help complete final rites for Bajgain and support his family states that he arrived in the United States in September of 2017 and lived with his wife and 5-year-old daughter.
The most recent update on the gofundme page, dated Sunday, July 8 thanked individuals for attending Bajgain's funeral that was held Saturday, July 7, and thanked all who had donated and shown support for the family. "We are very honored to have such a huge group of friends," posted the NRNA Virginia Chapter. As of Monday, July 6, gofundme reports $66,812 of the $50,000 online gofundme goal raised by 1,337 people. See www.gofundme.com/4wadxby4.
Detectives would like to hear from anyone with information, to include the driver of a Pontiac GTO who was near the Sunoco around the time of the murder. Abdullahi is being held at the Adult Detention Center without bond.
If anyone has information about this crime, contact Major Crimes Bureau at 703-246-7800 or contact Crime Solvers electronically by visiting http://www.fairfaxcrimesolvers.org or text-a-tip by texting "TIP187" plus your message to CRIMES (274637) or by calling 1-866-411-TIPS (8477), or call Fairfax County Police at 703-691-2131. For ongoing updates, read the FCPD blog and follow them on Twitter, Facebook and Instagram at @FairfaxCountyPD.