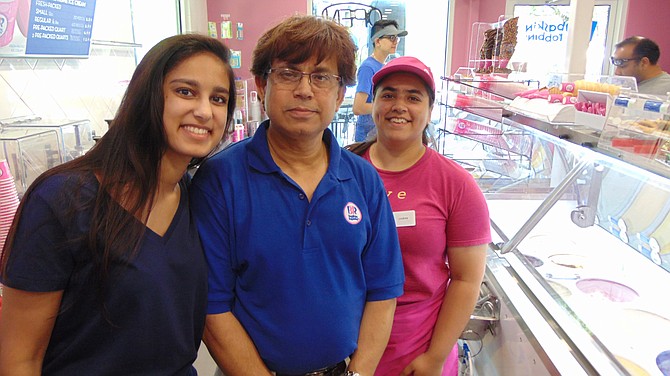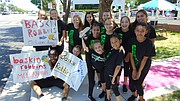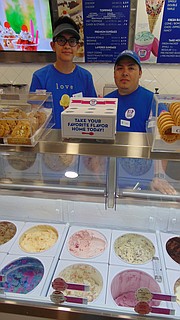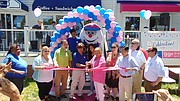 A new Baskin Robbins held its official grand-opening ribbon-cutting ceremony on Saturday, July 7, 2018, at 10655 Fairfax Blvd. in the City of Fairfax. Members of the Fairfax City Council and Central Fairfax Chamber of Commerce came out to celebrate, as well as the Adrenaline Dance Studio of Tysons Corner. There was also a DJ, prize wheel and discounted $.99 ice cream for the kids.
The store is owned by Syed Ahmed, who also owned the original Baskin Robbins at 10400 Lee Highway from 2001 to 2016 but was forced to close due to eminent domain. That store at the Fairfax Shopping Center had been a summer-night destination for the City of Fairfax for 54 years. It took Ahmed two-and-a-half years to reopen next door to Corner Coffee House, which he also owns; it offers coffee, sandwiches and muffins. He also had two restaurants: Vienna Tandor in Vienna and Gandi Restaurant in Stamford, Conn.
"Baskin Robbins has a reputation as a very established long-time business. It's one of the most favored ice cream places for young kids," said Ahmed. "I like working with the community and creating jobs for young people. Nobody hires people who are 16-to 17-years-old, and Baskin Robbins only hires these kind of young kids and gives them the opportunity to get a job and start learning as beginners."
"I got a lot of support from the City of Fairfax and they are great people and that's why I've come back again to the City of Fairfax," he added.
Added Jennifer Rose, Executive Director, Central Fairfax Chamber of Commerce: "The Central Fairfax Chamber of Commerce is always excited to get a business opened up in the community. The Baskin Robbins has been in the community for 54 years and we just want to see them succeed and grow and expand and be here for another 50 years, and the Chamber just wants to be a part of that journey."
Baskin-Robbins is the world's largest chain of ice cream specialty shops, with more than 7,800 retail shops in 50 countries. Today, Baskin-Robbins has more than 1,300 ice creams in its flavor library, and also offers custom ice cream cakes and frozen beverages.