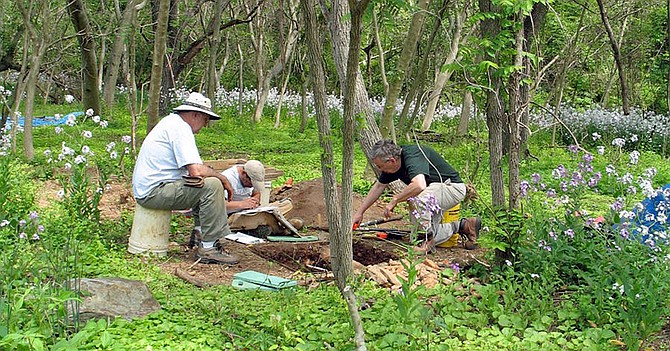 Burke — Karenne Wood gave a presentation for the Burke Historical Society on July 15. Hollywood and the retail world planted a seed for the stereotypical Native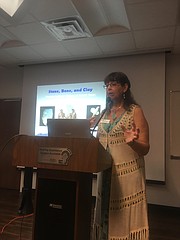 American, and it has been exploited more in commercial products and sports as well.
"We are left with a whole bunch of stereotypes," Wood said to a room of about 25 people in the Pohick Library. "This is what were projecting to our children," she said, referring to what is taught in schools with messages like "Columbus discovered America," when in reality, the Native Americans were already here.
Wood is a member of the Monacan tribe which occupied much of the Virginia inland areas. Her presentation was called "Stone, Bone and Clay: Virginia Indians History of 18,000 Years." The climate was colder, dogs became domesticated, corn came along as a crop, the trio, corn-beans-squash became a staple and the size of a Native American was substantially bigger than the Europeans when they came in 1607.
Are they referred to as Native Americans or American Indians? "It's better to ask the people you're talking to," said Wood, who also works at the National Museum of the American Indian in Washington, D.C.
In Northern Virginia, the Dogue and Manahoac Indians settled along the rivers and creeks around Fairfax County. The Burke area has been impacted by development so conducting archeological research is difficult, said Mike Johnson, a former Fairfax County senior archaeologist, which makes it tough for archeologists.
In his research, he "recovered a possible 13,000-year-old artifact from a spot just downstream from Hidden Pond Park," Johnson said in an email. There were other findings along Pohick Creek, and a large prehistoric site discovered by former volunteer Dave Rubis near the intersection of Route 123 and the Fairfax County Parkway.
There were "many different settlements around here," said Wood, "the river was like Main Street." Wood questioned why other populations had cities and towns but the Indians had villages or settlements.
At the lecture was Springfield resident Dick Hamly, the chairman of historical research committee of Pohick Church where many remains have been re-interred.