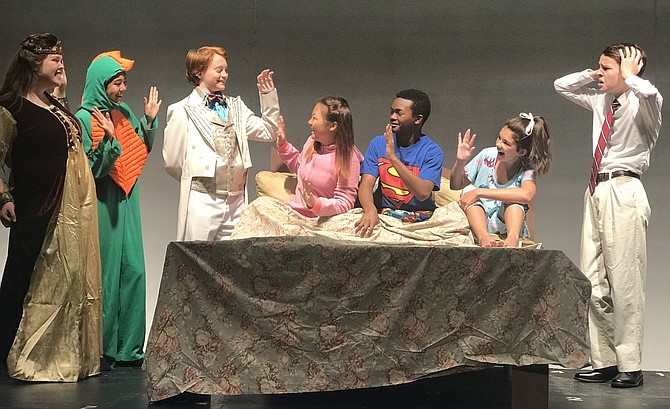 The children's play, "Bedtime Stories (As Told by our Dad, Who Messed Them Up," takes the stage this week at Chantilly High. Written by the school's former theater director, Ed Monk, it'll be performed Thursday-Saturday, July 19, 20 and 21, at 11 a.m. Tickets are $5 at the door or via www.chantillyhsdrama,com.
In the show, a father reads bedtime stories to his three children, but mixes up the plot points and characters — with hilarious results. And the cast and crew of around 30 hail not just from Chantilly, but also from Oakton High and Rocky Run and Franklin middle schools.
"We've got talented kids and things are going great," said Tech Director Andy Shaw. "The show was cast before the end of the school year, so they had their scripts all memorized when rehearsals started."
He said both he and Director Shannon Khatcheressian like seeing the rising eighth- and ninth-graders coming into Chantilly's theater program for both tech work and acting. "We get a preview of them and they get a taste of our program," said Shaw. "And it's exciting and encouraging to see all the new talent on the way." For this play, he said, "They really created big, fun characters and brought a lot of great energy to them. They aren't afraid to take risks."
The dad tells three, bedtime stories, in response to each child's request, In "The Kid who Cried, 'Dinosaur,'" his son wanted a story about a dinosaur, so he makes one up, similar to the "Boy who Cried, 'Wolf,'" tale. In "The Princess and the Pea," he alters the details and a can of peas, not just one pea, is placed under the princesses' mattress. And in "Rumpelstiltskin," nobody wants to take care of the baby.
"Audiences will love these over-the-top characters and seeing a different, irreverent, 'Ed Monk-ian' twist on stories they know," said Shaw. "There are lots of jokes about parenting, taking care of kids and growing up, and the stories are told in that perspective. So people will see these silly families, but all with parents trying to do what's best for their children."
The three-level set will have elements highlighting each story. The bedroom where the dad tells the stories is on the second level, and the action will take place on the stage level. "We'll change the focus with eye-catching colors, lights and movable set pieces," said Shaw.
Students designed all the technical aspects – the set, sound and lighting – and the costumes will be colorful and wacky. For example, said Shaw, "Rumpelstiltskin will look creepy and mysterious, and the princess will wear elegant attire. And in the dinosaur story, we have a town militia dressed in bold, bright, cheerful and crazy costumes."
Chantilly senior Jared Belsky portrays the dad. "He's worked all day and is just exhausted, but his kids want him to tell them bedtime stories," said Belsky. "All he wants to do is go to sleep, and he doesn't know the stories as well as the mom does. But she's pregnant and is already asleep, so he tells the stories, but mixes up the characters and plots."
Belsky enjoys showing the dad doing this while his children correct him. Said Belsky: "He's trying his best to entertain them, but he's clearly not getting things right. In this play, normal characters are thrown completely out the door, so you get to act like an idiot onstage and have a blast."
"It's fun for kids to see because of the big, goofy characters," continued Belsky. "But there are also jokes that only parents and older kids will get, so there's something for everyone."
Playing a young teen named Wilbur in the dinosaur story is Chantilly junior Amro Ibrahim. "Wilbur is very lazy," said Ibrahim. "He's forced to watch sheep all day, but he's bored. So he wishes something exciting would happen – and a dinosaur comes up. So he runs around yelling, 'Dinosaur!' but the dinosaur has hidden behind a tree when the townspeople come."
Ibrahim said Wilbur's friendly, but irritated by his parents and the other adults who don't believe him, so he's frustrated. "I like his country accent and getting to be mad at everybody," said Ibrahim.
He said this show's multiple stories give it variety. And, he added, "They're all well-done, with jokes for all ages. It's fun being in a children's show because you get to be goofy and let it all out."
Chantilly sophomore Lila York portrays Mindy, a servant girl at the palace in "The Princess and the Pea." The queen wants her to pretend to be a princess to make the prince fall in love with her. Once he does, the queen can leave her throne and go to Las Vegas – which she can't do until he's married.
"Mindy's sweet and nice and has a Southern accent," said York. "She has to learn to act like a princess, so she's very determined. Yet she's also honest and hardworking and doesn't like lying, but she'll have to do it." York said doing a Southern accent is different for her, but "It's really fun and it's been a nice experience expanding my horizons."
She said children's shows are entertaining because "Everyone's having such a good time onstage. We make big movements and exaggerated expressions. The audience will like the quirky twists to the classic stories they've heard, and the characters are all funny and unique in their own ways."
Playing Ashley, one of the children being read to, is Franklin Middle eighth-grader Micaela O'Rourke. "She's 7 and sassy, will backtalk her dad if she feels the need, will correct him and will get her siblings on her side," said O'Rourke. "I like playing someone younger than I am. You get to be more creative and have fun with it and be a little more quirky and loud."
She said it's always "fun to hear children laughing, and the whole cast is super nice and supportive. And the costumes are really different; for example, some characters wear Converse shoes with buttons, feathers and sparkles all over them. This show's very creative – not something you'd usually see. And kids will enjoy seeing our bright set and colorful characters, too."