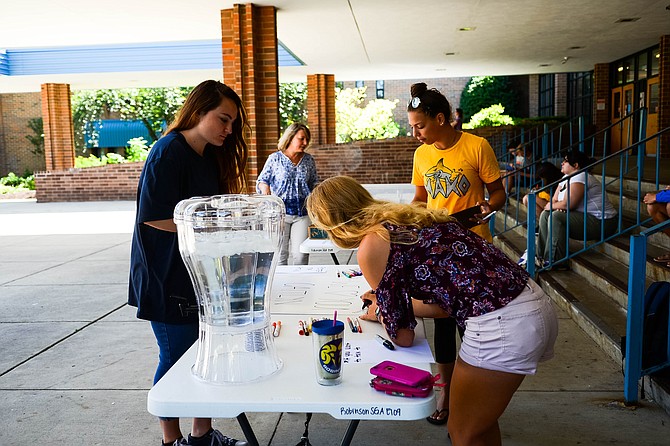 On Wednesday, July 18, 2018, members of the Robinson student body gathered together to write letters for the family of 17-year-old Conner McGowan of Burke, a rising junior at Robinson Secondary School,who was killed in a car crash, and for Ethan Willison, injured in that accident, as well as sign banners for Ethan and Caitlyn Newham.
The Robinson Student Government announced the event via social media to encourage the student body to gather together in remembrance and support for their peers that were involved in the accident.
After the accident, the Robinson Student Government gathered to brainstorm ideas of how they could help and give the student body a voice.
"It was all of our executive council and SGA. The Student Government and most of the juniors, classmates of the students in the accident, created a long list of what they wanted to do for them and this letter-writing opportunity was one of them," said Robinson Secondary teacher Carleigh Peterson.
"The executive council and members of the student government truly wanted to contribute in some way to give back to all that Conner gave us," said SGA Executive Council Member, senior Rachel Nelson. "We put together this letter-writing event to commemorate all that he's done as well as recognize the two injured Robinson students."
Outside of the main entrance of Robinson, the student government set up three tables. One with colorful paper, pens and boxes to write letters to the McGowan family as well as Ethan, including ideas of what to include in the letters. They also set up banners for everyone to sign for Ethan and Caitlyn, with big letters spelling out "We love you". Members of the student body signed the banners as well as faculty members.
"This is obviously a really hard time for everybody," said Peterson. "I thought this was a great idea because it can provide the family with some fun stories of not only Conner but Ethan as well. It can give our students some closure and an opportunity to express and remember all the great things about these students."
In addition to loving memories of Conner, students also recognized Ethan Willison and Caitlyn Newham who were involved in the accident too.