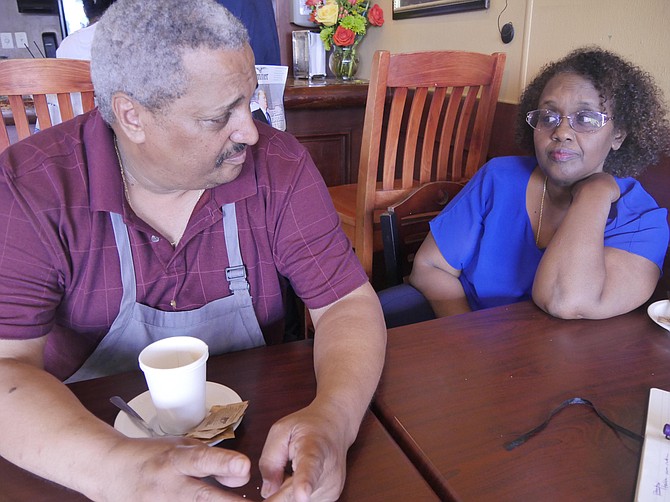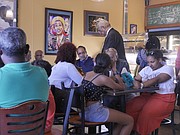 Late Friday afternoon, the buffet lunch crowd has mostly cleared out at Dama Restaurant. But at the adjoining Dama Pastry, family groups sit together with the men talking politics and the children's faces gooey from the honey baklava or chocolate cake.
Hailu Dama, the owner of Dama Pastry and Restaurant, says he arrived from Ethiopia in 1981, because with the government that was in power, "no rights, no position. If you were with the government you might get lucky; if not, you might get killed." His wife Amsale Saife followed in 1983.
Saife says about 22 years ago they opened an Ethiopian carryout on Columbia Pike. In the beginning Dama says, "People weren't so sure. But the location next to the highway on Columbia Pike helped us a lot." Saife says families started to come to the carryout and sit down so they added a restaurant. In the beginning it was mostly Ethiopians. "They all told each other about the restaurant." But as word got out, Dama adds, "in this 22204 zip code along Columbia Pike we had almost every customer from the whole world." He says, "Now you name it. We have every kind of customers .... white Americans, Hispanic Americans, Asian Americans."
Saife says the customer's favorite is the kitfo, which is steak tartare. She says their butcher, Debebe, grinds it fresh and adds crushed chili peppers that they get from Ethiopia. "We got a butcher about 15 years ago because we want to do everything fresh." Another popular item is the vegetarian combo with awaze (beef) tibs. It is served with injera, the traditional unflavored flatbread that is used in place of utensils to scoop up the food. "The bread has no flavor so it absorbs the flavor of the food."
Saife says they have also added vegan food including cakes. She said Ethiopians celebrate both the American and the Ethiopian Easter and Christmas holidays. "Our Christmas is Jan. 8." Dama says every four years the two Easter holidays fall on the same day. Saife explains Ethiopians fast the 40 days of Lent and 50 days before Christmas. During this time they become vegans. "Then when they break the fast they want to eat cake. They are lined up out there." She points out the front door.
Also the holidays have led to a thriving catering business that is located across the side street. Dama says, "People ask for catered food for graduations and weddings and holidays instead of cooking themselves. We are used to our people."
Dama says the restaurant is a community. "We go through the good times and the bad times together." And he says, "that's what I do, the original food back in Ethiopia." He says people like the ambiance. "We go discuss politics and life. We have that here. That's how we grew up." He adds, "Customers love this place because it reminds them of home."
A lot of the customers are regulars. "Like that guy over there, he comes every day. Two men sit huddled in deep conversation discussing a newspaper. "And that group in the corner. They come every day and drink coffee." Dama shakes hands with a customer heading toward the glass pastry counter for a piece of Italian rum cake.
"Some of these people today are from around many states." Dama explains the prime minister of Ethiopia is in town and 40,000 Ethiopians are expected from around the country.
Saife says the difference in running a business here and in Ethiopia is that in Arlington you can click on-line and order from vendors. Back in Ethiopia you would go to the market, and it was difficult to get ingredients, especially for pastries. "Vanilla, something simple like that, and cake flour. Hard to get and very expensive." Almaz Dama, a sister who came to America in 1974, is the baker for the pastry shop and business.
Saife points to a picture of Father Dama, "my husband's dad," on the wall in the restaurant. Although he never came to America, he was the inspiration for it all.
This is the second in a series of articles about refugee or immigrant businesses in Arlington.