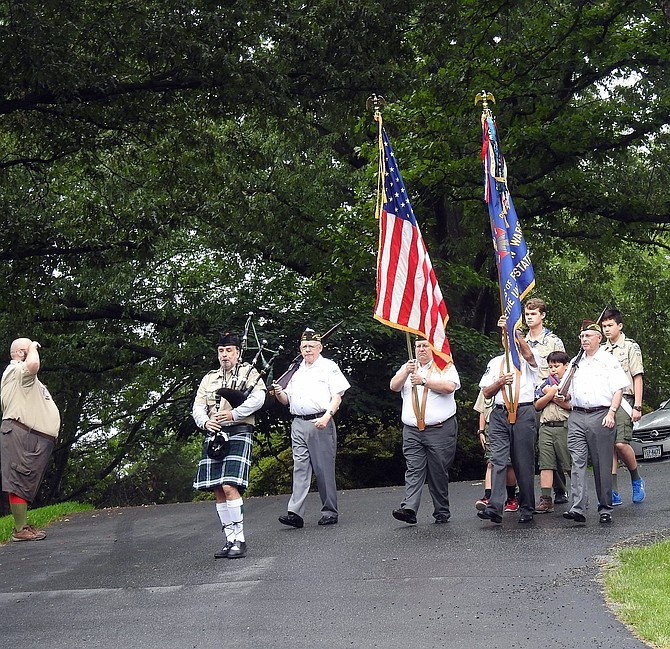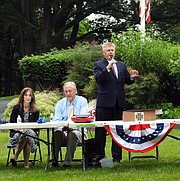 Once again, Burke VFW Post 5412 held their annual Memorial Day Ceremony on the grounds of the Burke Centre Conservancy. The weather was better than in past years, and Supervisor John Cook (R-Braddock District) commented that it was 20 degrees cooler than most years.
The ceremony began with the Presentation of the Colors and raising of the flag by members of VFW Post 5412, Boy Scout Troop 1345, and Girl Scout Troop 1945. After the Invocation by Reverend Stephen Holley of Emmanuel Bible Church and the singing of our National Anthem by Pamela Wilson, a memorial wreath was laid at the foot of the American flag.
The keynote speaker was Air Force Col. Michael Nelson, who spoke of his optimism for the future as younger folks, or millennials, are actually very engaged with protecting the freedom and honor of America. Comments by State Sen. David Marsden (D-37), Del. Eileen Filler-Corn (D-41), and Supervisor Cook, echoed those of Col. Nelson and also highlighted the fact that we must never forget those who gave the ultimate sacrifice so that we may all be free. The ceremony concluded with the rendering of Taps by bugler Terry Bradley and the playing of Amazing Grace by bagpiper Jay Coplan. All in all, it was a beautiful tribute to those who have given their last full measure of devotion to the United States of America.
Lindsey Smith is Chief of Staff at Supervisor John Cook's office as well as Senior master sergeant (ret.) United States Air Force.