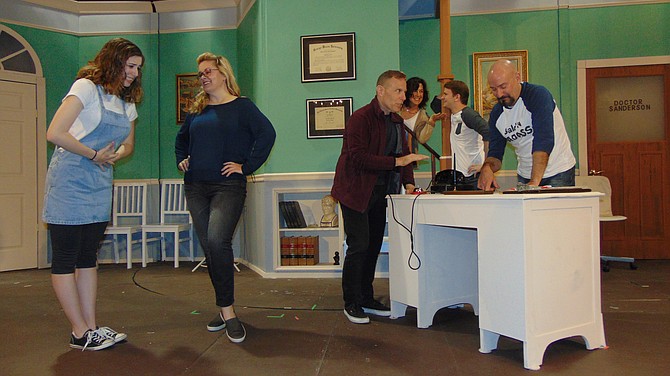 The Little Theatre of Alexandria is presenting "The Nance" from June 2-23. The play is set in 1930s New York, a time when it was easy to "play gay," but dangerous to be gay. A headliner called "The Nance" was usually played by a straight man who would portray a campy homosexual in musical vaudeville parodies. However, in this comedy, Chauncey Miles not only plays a gay man but is a homosexual himself. The Nance will take the audience into the world of burlesque and tell the backstage story of Chauncey and his fellow performers.

Written by Douglas Carter Beane, the play is about the waning days of vaudeville and burlesque and how the decline of the two bring about social change in 1937, said Director Frank Shutts. At the time, Fiorello LaGuardia was running for re-election for mayor of New York, and as his campaign promise he was going to clean up the city and that meant closing them down. "They were getting ready for the World's Fair so they were trying to get rid of burlesque, the lewd vaudeville sketches, anything that wasn't family-friendly," he said.
He said there's plenty of humor in the show and it will touch your heart if you allow your heart to be open. "There's music; it's a play with music but it is not a musical," he said, including a live five-piece orchestra.
He said the cast watched the DVD of the story, "Behind the Burley Q," which interviewed the burlesque performers at the time. "They've done their research for this show and realized these girls weren't pushed around. They were protected. If they were found prostituting themselves, they were fired. It's set during the era of Prohibition. No one could afford $20 to see a Broadway show but they could afford 10 cents to see the burlesque show. These girls were making $1,500 a month, which was a killing during the depression," he said.
Chuck Dluhy plays the main character, the Nance, but his name is Chauncey. "Off stage he's a semi-closeted gay man in the 1930s. He's never been good at relationships. He goes from man to man for his sexual conquests. But he has this persona on stage called the Nance," he said. "In that time, a straight man played gay on stage. But he's a gay man playing a gay man on stage. He meets Ned; he picks him up in an automat one night and it ends up not being a one-night thing. They develop this more formal relationship; he's used to having one-night stands. The play juxtaposes his life on stage and off stage and the relationship he has with Ned."
Jack Stein plays the role of Ephraim, the classic New York burlesque theater stage manager who to keep costs low, he also does a lot of comedy sketch work opposite his cast members. "That's the glue behind the burlesque show because the audiences are primarily there to see the strippers," he said.
He said it's a challenging play because it's combining a poignant back-stage story that takes place in the 1930s in a critical time of censorship. "So, balancing the poignancy with the story line and the joy of burlesque theater. The show is constructed in a way that we do a back-stage storyline but to emphasize the themes, we're performing burlesque and comedic numbers. So, it's a fun and interesting."
He hopes the audience takes away a respect for the level for creativity and challenge that this era of theatre had and, perhaps even more importantly, the stigma still faced today with segments of our population, via one's sexual identity or cultural background, and the challenge of being accepted in a very diverse society.
John Paul Odle plays the role of Ned, a less-sophisticated cross between a city boy and country bumpkin who comes to New York City after having left his wife in Buffalo. "Mainly because he has come to the realization that he's gay and knows a marriage to his wife will not work out, so he has the goal in mind to go with the flow and roll with the punches," he said.
"I meet Chauncey at the automat and in Chauncey I see a chance at something nice, something more domesticated, something more my speed. And at the same time Chauncey introduces me to the world of theater, which for me is a safe haven for the outcasts of society, at least at the time," he said.
He said the biggest challenge was a straight man playing a gay man. "I had gone into this thinking it would be a straight man playing a gay man and that is the be-all-end-all. But it's a lot more layered because I have this back story. For a long time, I was closeted. I played the part to fit in. When I blend in to NYC, I let the freak flag fly," he said.
Charlene Sloan plays the role of Sylvie, a passionate and streetwise burlesque-talking woman as opposed to a chorus girl. "As a talking woman, she sets up the jokes. She's obviously a stripper. In the show itself, in the backstage scenes and regular life scenes, she's very passionate and keeps up on politics and has a viewpoint. She's not the ditzy character that people stereotype a stripper as," she said.
"Being a very realistic character, my personal challenge is trying to find a way to exude the physical confidence you need to have to be a burlesque stripper. You have to be confident to strut your stuff. You have to exude confidence and display a comfortable way with your body. This is a stripper — you have to show that confidence and ballsy attitude because that's what our audience was looking for," she said.
Danielle Comer plays the role of Joan, who is also one of the strippers. "She's the youngest of the strippers so she's there to draw the young men in. She's not the brightest tool in the shed; I don't know if I'd call her ditzy but she's not as street savvy as the other characters but she doesn't let that stop her," she said.
She adds: "She knows how to have a good time. So being confident in your body, especially women nowadays are told that a certain body is beautiful, so it's very hard to be confident in showing your body on stage when you don't look like the ones you see in the magazines. So that is a challenge for me," she said. "I think I'm smarter than Joan in real life so I think it's giving her the just performance she deserves. She's not all dumb but it's finding that balance of being confident and not being the smartest of the group but finding her place in the group."
Janice Rivera play the role of Carmen, one of the burlesque women. "They play up her Hispanic background. It's stereotypically portrayed in the show. Her numbers are 'La Cucaracha' and 'Mexican Hat Dance.' It's an interesting contrast to see where we've come. Her character plays up on that. She embraces that as part of her performances. She's a little different, a little spice on stage, and that's her gimmick and she doesn't have any problem using that as her performance."
She adds: "As a character I'm finding that she does have a lot of street smarts and she's happy to be one persona on stage but very true to herself and her friends and colleagues off stage. There is a relationship and a bond between the performers off stage, which is one of the things I hope people take away from this show."
The Little Theatre of Alexandria is presenting "The Nance" from June 2-23. Show times are Wednesdays through Saturdays at 8 p.m.; Sundays at 3 p.m. Tickets are $19-$22. The venue is located at 600 Wolfe Street, Alexandria, VA 22314. Visit the website at www.thelittletheatre.com or call the box office at 703-683-0496.