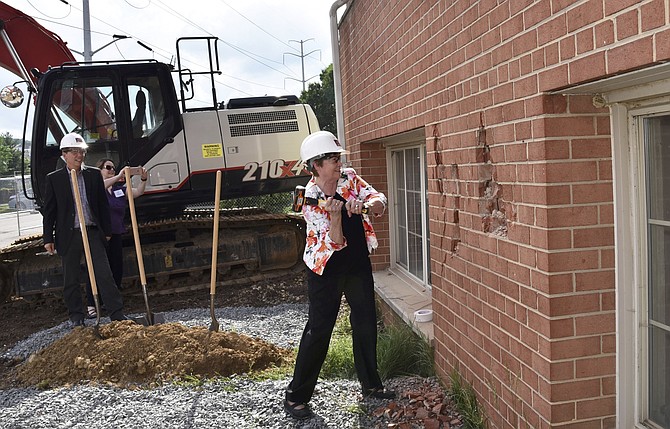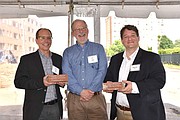 Del. Alfonso Lopez adjusts his white AHC hard hat and picks up a sledgehammer at the "Knock Down the Berkeley" event on May 31. He takes a swing at the brick wall of the now vacant Berkeley housing development on S. Glebe Road. A crowd of Arlington County and elected officials as well as staff and guests stand ready to take a turn at the wall. Lopez represents Virginia's 49th district where the Berkeley is located.
"Watch out, it's coming down," someone yells. A Link Belt bulldozer sits nearby ready to begin the real demolition work.
Amid piles of dirt and miscellaneous boards scattered around the cracked concrete, John V Snyder, vice chair of Arlington Housing Corporation, Inc. announces to the crowd, "Today we have the opportunity to knock down the Berkeley." The Berkeley was built in the 1950s and housed 137 families with 110 committed affordable units.
"Today we are kicking off the $100 million redevelopment of the site, which will provide 256 new units by 2020" (217 committed affordable using the traditional definition). He says the two new five-story buildings will just about double the capacity.
Snyder points out that some unique features of the project are the inclusion of the "missing middle" housing, which is for 60-80 percent of Average Median Income (AMI); and in addition, the project will provide much needed family-size living, with 81 percent of the apartments including two or three bedrooms.
Berkeley I will contain 125 units with a management office, playground, sport court and community lounge. Berkeley II will contain 131 units with a fitness room, and both units will share amenities. Underground garage parking will allow for expansion of the footprint of the facility. All Berkeley families have been relocated with the help of financial relocation assistance. Construction on Berkeley I will begin immediately with completion scheduled for spring of 2020 with Berkeley II scheduled to be completed in the fall of 2020.
Snyder also points out this is the first new construction on the waterfront, referring to the nine-mile Four Mile Run stream overlooked by the Berkeley. The redevelopment was designed to fit in with the Four Mile Run Master Plan which aims to integrate natural areas with active urban areas with the goal of turning the corridor into a model of urban ecological restoration. It incorporates green design as well as outdoor space and increased access to a widened pedestrian/bike trail.
Mary Claire Davis, Berkeley project manager, told the crowd it has taken a long time to get to this point. "Really special projects like this take a good simmering." She says this project will include a playground, fitness area, community center, access to buses and modern amenities the old building couldn't provide.
The project is being developed by AHC, Inc. in cooperation with its community partners. It is being financed by a $20.9 million loan from the Arlington Affordable Housing Investment Fund (AHIF) and mixed 9 percent and 4 percent Low-Income Housing Tax Credits from Virginia Housing Development Authority (VHDA).
AHC is a nonprofit affordable housing developer created in 1975 by Arlington citizens concerned about lack of affordable housing. AHC serves low and mixed income housing communities in Alexandria, Falls Church and Fairfax and Montgomery Counties with the largest concentration of properties in Arlington (24).
Over the years, AHC has developed 53 properties serving more than 7,300 individuals and families.