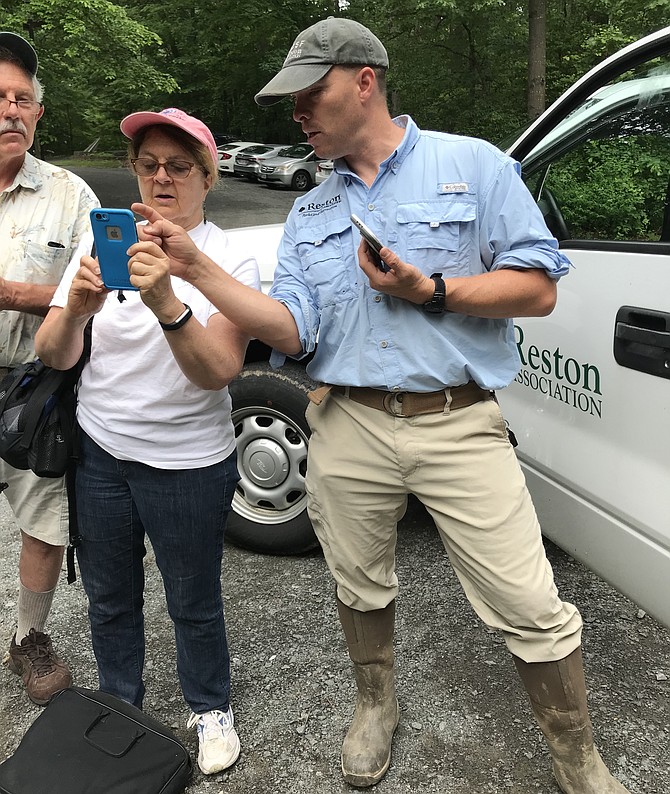 Reston, Virginia participated in their first 24-hour BioBlitz on Saturday, June 2, 2018. Reston Association coordinated the event, in which scientists joined with citizens in a challenge to document by photograph and identify as many species as possible during a 24-hour period and within given geographical locations. The Reston Annual State of the Environment Report, known as RASER recommended Reston take part in a 24-hour BioBlitz.
In the online Overview of Reston as a Designated Biophilic City, it states that a crucial step in preparing for the future is to have a reliable understanding of current environmental conditions. Reston BioBlitz 2018 would provide a 24-hour snapshot, the first baseline assessment.
Sue Beffel is Chair of the Reston Association Environmental Advisory Committee. In response to an online interview asking why there was to be a 24-hour BioBlitz, Beffel answered referencing findings from the prior study. "Research conducted to assess the state of wildlife for the RASER report found that the status of most wildlife species was either poor or unknown -- for example, insects other than butterflies or dragonflies. It was hoped that the BioBlitz would not only create an inventory of the species in Reston but would also bring together scientists, naturalists, and volunteers and would interest members of the public in our wildlife biodiversity. I look forward to seeing how the numbers change from year to year, showing us trends," she wrote.

WALKER NATURE CENTER in Reston was the meetup hub for the scientists, naturalists, and volunteers. Katie Shaw is the Walker Nature Center Manager. In an interview before the start of the Saturday, June 2, Reston BioBlitz 2018, Shaw enthusiastically shared, "This is an important moment in Reston history. We will be documenting as many plant and animal species as possible. That's the challenge." Shaw reported Reston is currently undergoing significant change and the 24-hour BioBlitz was an opportunity to understand Reston's natural resources better.

Volunteers would be paired with experts Shaw said. "We have experts from all types of disciplines, naturalists, arborists, herpetologist, tons of birders and hydrologists. Every group is paired with an expert. This event is a one day and all night event," Shaw explained. She added results of the Reston BioBlitz 2018 could be viewed at www.inaturalist.com.

Shaw cited what was to be different about this event. "We are engaging technology. Each group in the field is using an app call iNaturalist to make observations for BioBlitz."

Shortly after 9, two Stream Teams assembled, one led by Will Peterson, Reston Association's Watershed Specialist. He provided an orientation to the app, iNaturalist and explained how to use it; then the team drove off to hike down to their designated site.
Peterson's team left a residential area and descended toward a stream, thick with tall grass and slippery from the night's rain, strangely remote yet feet from a paved hiking path. There, scientists and volunteers worked together and assembled a fold up table.
When completed, they quickly waded into the streambed near a riffle. One volunteer opened a large canvas filter cloth and held it down in the water, while only feet upstream, other volunteers and scientists began turning over rocks, dislodging small macroinvertebrates and fish that hid underneath. Species after species flowed onto the filtering canvas. They would be large enough to be seen moments later with the unaided eye, picked out, transferred to trays, photographed and their images uploaded to iNaturalist and recorded. Within minutes, the volunteers returned the samples to the stream. Macroinvertebrates are indicators of a stream's health.

Marty Gurtz, United States Geological Survey (retired) and volunteer served on the Steam Team. He explained, "Understanding biodiversity is crucial for ensuring the health of our natural resources for future generations here in Reston and around the world. What we learn here, impacts others."
AFTER BIOBLITZ 2018 ended, asked in an email what the BioBlitz findings yielded and asked if there were any species in particular that BioBlitz organizers were hoping to find due to their conservation status, Katie Shaw, Walker Nature Center Manager, wrote: "We are thrilled with the results of our BioBlitz. Currently, 604 species have been identified, and the number is growing as Restonians, and the greater online community work to make and verify the identifications... While this project had a very wide scope, our efforts documented at least 4 species that have a threatened conservation status-- a freshwater fish (American Eel), two trees (Green Ash and Eastern Hemlock) and one damselfly (Lilypad Forktail)."
Individuals wanting to aid the environmental effort still can contribute additional observations all year long in another project, which is ongoing, Reston Biodiversity using the same free app, iNaturalist.
To view results of Reston BioBlitz 2018 visit www.iNaturalist.org.