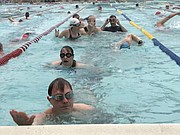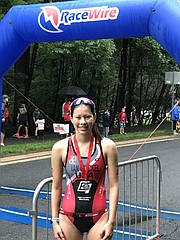 The 12th Annual Reston Sprint Triathlon was held Sunday, June 3, 2018, at the Lake Newport Pool, 11601 Lake Newport Road, Reston. The triathlon offered a family-friendly atmosphere, fast course, and early morning start. The swim was in the Lake Newport pool: ¼ mile (400 meters). The bike segment was 12 miles (20 km), all within North Reston and with police and volunteer course monitors. The run segment was in the heart of North Reston and took advantage of Reston's famed pathways for the 3 miles (5 km) run.
Interviewed at the event as he waited for his call number, Larry Butler, Reston Association Acting CEO, explained the popularity of the Reston Sprint Triathlon. "If someone is going to be tested out, then this is great because it's spectator-friendly."
Beth Livingston stood to the side and also waited call number. She told how her husband supports her endeavors and takes their young children, which enables her passion and modeling for their girls. "I want to show my girls there are many options in sports for women. They can ride, swim and run...I am modeling a healthy lifestyle," said Livingston.
The CORE Foundation, in cooperation with Reston Association, presented the triathlon with proceeds donated to one of Reston and Northern Virginia's most successful non-profit organizations, Cornerstones. Butler said 1,050 people were registered for the event.
The 2018 Results from Racewire identified Rank #1 going to John Chambers, 41, male, with a time of 55:23 and Rank #4 and First Place as a female going to Zoe Van Winckel, age 16, with a time of 1:00:42.
Interviewed after the race, Van Winckel told why she loves triathlons. "I really like the challenge, and it helps me to relieve stress after a tough day...My dad is my training partner. I'm thankful that he is willing to go on long bike rides with me." Asked about the pain of fear of failure, Van Winkle replied, "Don't be afraid to take risks; it's rewarding after you see the results of your hard work and training."
Results for Reston Sprint Triathlon can be viewed at www.restonsprinttri.org/Index7.htm?2017