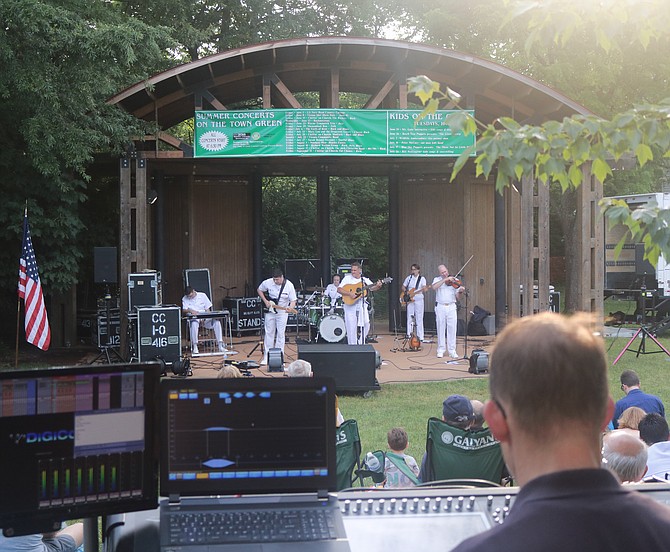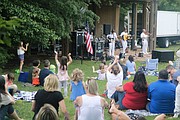 As band leader Kenny Ray Horton took the stage Friday evening with his fellow Navy musicians, he let it be known that they were no ordinary U.S. Naval Band. Trading their trumpets and horns for guitars and fiddles, the Country Current ensemble kicked off Vienna's Summer on the Green Concert Series with a variety of Country and Bluegrass classics.
Following a week of miserable weather, Vienna residents turned up in masses to enjoy the sunshine and free music at the Green on Maple Ave. Now in its 11th year, the Summer on the Green Concert Series has attracted a loyal crowd of Vienna locals according to parks and rec supervisor Amy Fajo, a 29-year employee of the town. With more than 200 people in attendance, the mix of couples and young families filled the grass with blankets and lawn chairs.
Encouraged by the swing of the music, many spectators throughout the evening started to dance along with the band. "It's nice to get out of the house when we can," said longtime Vienna resident Marty Johnson. "Watching the kids run around and dance is always a good time".
The Summer on the Green Concert Series takes place every Friday night at 6:30 p.m. in Vienna. This year's performers include Shenandoah Run, Nowhere Men, Fat Chance and many more. On Friday, June 8, the venue will be hosting Vienna Idol. The Green is located at 144 Maple Ave E. Vienna. Food is allowed though alcoholic beverages are prohibited. Check viennava.gov for more information.