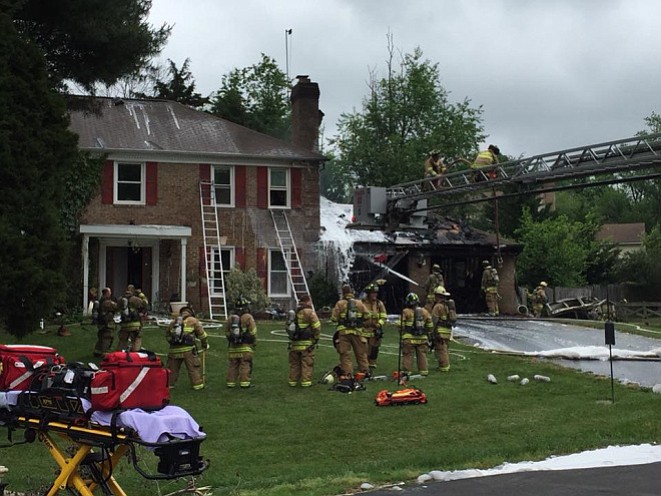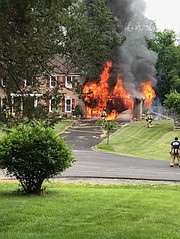 On Wednesday, May 30, at 10:55 a.m., units from Fairfax County Fire and Rescue and Loudoun County Fire and Rescue were dispatched for a house fire in the 900 block of Holly Blossom Court in the Great Falls area of Fairfax County.
Units arrived on the scene of a two-story, single family home with significant fire in an attached garage. The fire extended into the main house. Crews quickly used fire hose to extinguish the garage fire. Additional fire hose was advanced into the house to stop the fire from spreading further. A second alarm was requested to bring additional resources to the scene. One occupant was evaluated for a minor injury and declined transportation to a hospital. Three firefighters sustained minor injuries. One was treated on scene and two were transported and released from the hospital.
One occupant was home at the time of the fire. The occupant saw smoke coming from the rear garage door. Upon investigation, a fire was discovered in the garage. Simultaneously, a neighbor saw fire coming from the garage and called 9-1-1. Smoke alarms sounded after the fire was discovered.
Fire Investigators determined that the fire was accidental in nature and started in the garage. The cause of the fire was an electrical event involving extension cords and a power strip, according to Fairfax County Fire and Rescue Department news release.
A total of two adults have been displaced as a result of the fire. Red Cross assistance was offered and declined. Damages as a result of the fire are estimated to be $149,500.