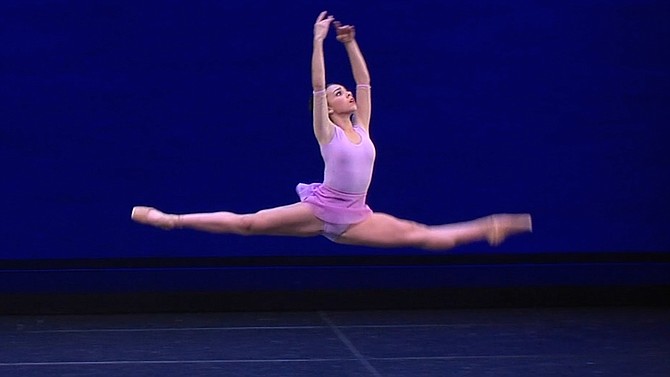 Emilie Gregory, 16, of Great Falls – a dancer with CityDance Conservatory in North Bethesda, Md. – was selected to train at the dance school of the National Opera in Paris, France. The summer school offers a unique opportunity for young dancers from all over the world to train at the world's oldest ballet school. Emilie, who placed in the advanced level, is looking forward to receiving specialized professional training to improve technique, artistry and expression through intensive workshops and master classes. Acceptance into the program is competitive to say the least. Of the 670 candidates who auditioned in January for the summer program, only a few were selected for the advanced program.
EMILIE began studying ballet seriously in 2011, with Classical Ballet Theatre in Herndon until 2017 when she auditioned and was offered a scholarship to join CityDance Pre-Professional Division in North Bethesda. CityDance, located at the Strathmore Music Center, offers a Vaganova ballet program taught by leading ballet masters such as Stanislav Isaaev, Andrea Long, and Irina Vakhromeeva. In addition to Ballet training, Emilie participates in CityDance's extensive repertories of performances including a guest appearance with the Great Russian Nutcracker presented by Moscow Ballet as well as numerous contemporary performances held at the Historic Lincoln Theater in Washington, D.C., Strathmore Music Center, CityDance studios, and other guest venues. Emilie credits CityDance Artistic Director Lorraine Audeoud Spiegler for the heartfelt encouragement and opportunities presented to her to perform in multiple venues. Emilie's past summer intensive programs have taken her to Miami City Ballet where, at the conclusion of her summer program she was offered a merit scholarship covering full tuition and housing for year-round training, San Francisco Ballet, and Pittsburgh Ballet where she gained a partial scholarship, and was offered a spot in the year-round program. Emilie has also competed and placed two consecutive years in both classical and contemporary events at the Youth America Grand Prix (YAGP) in Philadelphia.
A RISING ELEVENTH GRADER at Langley High School, Emilie's schedule is a balancing act, having to juggle stringent academic requirements, some of which will include AP classes in the Fall, dance training, and working part-time as a Math tutor in Great Falls. Such schedule requires not just time management skills which she mastered mostly rushing to Ballet classes and rehearsals, but also having her parents' unwavering support. While pre-med is a major she'd like to pursue, Emilie's goal is to be accepted in a famous dance program at a prestigious University, "After all," says Emilie, "it's hard to let go something you've been doing for so many years…" Such goal requires sacrificing weekends and evenings with friends and family, but as Emilie puts it "short term sacrifice is worth it to achieve long term gains." In that spirit upon Emilie's return from Paris she will participate in a series of leadership conferences on Medicine and Health Care sponsored by the National Student Leadership Conference from Aug. 1 – 9 at Harvard Medical School.
For more information about CityDance Conservatory training programs, call 301-581-5204 or visit https://www.citydance.net/training-classes.