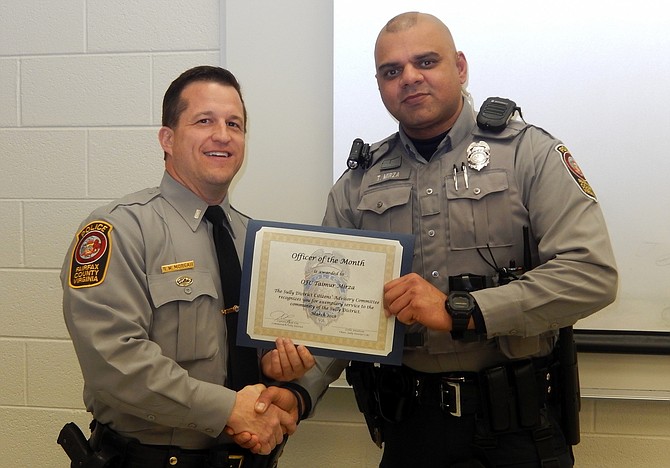 Officer Taimur Mirza was selected as the Officer of the Month for March for the Sully District Police Station. He was honored at the April 11 meeting of the station's Citizens Advisory Committee.
Mirza is a recent graduate of the Fairfax County Criminal Justice Academy and is currently assigned to the Sully District Station's midnight shift. Police 2nd Lt. Brian Calfee nominated him for Officer of the Month, explaining why he's deserving of this award.
From his first day on the job, wrote Calfee, "Mirza has shown an exemplary attitude and positive work ethic. His courtesy, tact and demeanor to community members in their time of need is admirable and well in-line with departmental expectations."
Calfee said Mirza's supervisors noted a recent example of this behavior following a report of a suspicious event. "At a local gas station, a clerk working the late shift looked out his storefront to witness a man near a vehicle fully engulfed in flames," wrote Calfee. "The clerk raced to assist the man and stomped out what remained of his smoldering, discarded clothes. The unidentified man was scared, clearly burnt and scarred from the fire, but left the gas station in a vehicle before first responders could arrive."
Once Mirza got there, he evaluated the scene and found a burned jacket in the area. Some personal items, including a wallet, were found in a pocket of that jacket. "Officer Mirza found an ID that would prove critical in ascertaining the subject's name and probable Centreville home address," wrote Calfee. "Mirza's inquisitiveness led him to the address on the ID."
Following up, Mirza drove to the victim's home. There, in an open garage, he saw a vehicle matching the one that had been at the gas station. He also noticed that an adjoining door was ajar.
"Officer Mirza called into the home several times, hoping to receive an answer," wrote Calfee. "A faint cry for help could be heard from an upstairs room, which prompted immediate action. Mirza and others quickly made their way to the sounds and found a man in a horrible state. Under the charred remnants of his clothing, third-degree burns covered his face, chest and hands."
Calfee said advanced life-support personnel quickly responded to provide critical care and transported the man to the Medstar burn center in Washington, D.C. "It was later learned [that] the man had been playing with a lighter at the gas station and accidently caught his jacket on fire," wrote Calfee.
"It is believed that Officer Mirza's timely investigation ultimately contributed to the man's survival," he continued. "His determination and drive to protect our community is evident, and he is worthy to be recognized as Officer of the Month for March 2018."