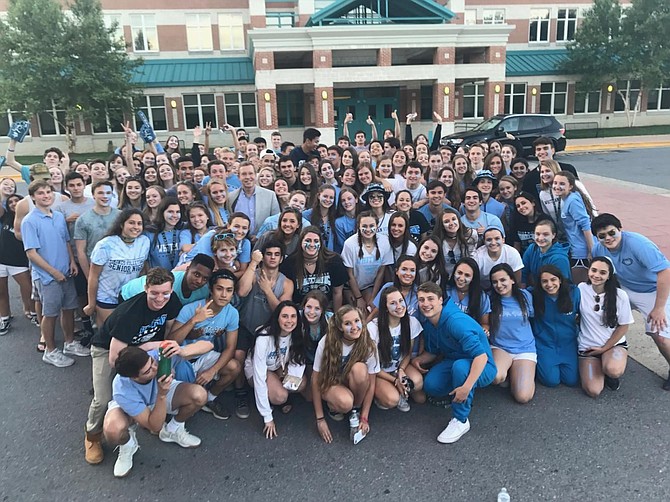 Close to 500 students received diplomas at the Walt Whitman High School graduation ceremonies Friday, June 8 at DAR Constitution Hall.
It was an inclusive ceremony, with Principal Alan Goodwin calling out activities, classes, clubs, volunteer work and just about anything students at the school may have participated in during their years at the school and asking students to stand, and remain standing, as his list continued.
Soon just about the whole graduating class was standing and, in case anyone was left out, he even included those who ever attended a Whitman sporting event and announced that they were all "Whitmaniacs." Parents too.
"This class had fun, but worked hard," he said, announcing that the class, so far, earned over $16 million in college scholarships.
"You are truly an outstanding group of students."
Much to Goodwin's surprise, as he finished calling his student participation list, the tables were turned on him.
At the end of his remarks to the students, his voice breaking just a little as he began to reminisce about his 19 years at the school as vice principal and principal, a shout came from the audience.
Was it "We love you?" A little hard to tell but graduates and guests alike cheered, then stood and saluted Goodwin with loud and long applause.
Guest speaker for the graduation was Washington Post writer and syndicated columnist Dana Milbank.
He was chosen, by the students and faculty, Goodwin said in a phone conversation before the ceremony, after taking part in a panel discussion last fall at the school.
"He impressed the students and the adults," Goodwin said.
Milbank told the students they are coming of age in a most unusual time and gave a rundown of Presidential [gaffs] from the previous week. Then reminded them that graduation speeches are not to tell graduates, "We are doomed."
"I've come to tell you how you are going to save us," he said.
Milbank told the students Trump would not destroy American democracy. He said, Trump is not the cause of the problems [in our country] he is a symptom.
Milbank also took the students through a bit of U.S. history giving examples of other, even worse times the country has weathered.
"Now we have a stronger Republic," he said. "The real problem is not from Trump, but the forces that brought him to office."
He encouraged the graduates to take an active part in the politics of the county, telling them their generation is different from the one that elected Trump.
"Your generation has a dramatically different view," he said. "Good luck … Class of 2018," he said as he finished speaking. "We are all counting on you."
Goodwin pointed out that the Whitman class of 2018 had logged 83,000 hours of community service.
"That gives us hope for the future," he said.