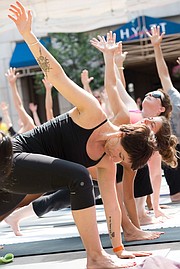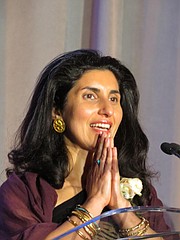 Yoga studios and wellness centers of Northern Virginia will offer classes, services, and share information at Love Your Body Yoga Festival on Sunday, June 17 from 10 a.m. until 5 p.m.at Reston Town Center, 11900 Market Street, Reston. With free admission, Love Your Body Yoga Festival offers free activities and entertainment for the whole family including live music, complementary Yoga classes, Energy Healing demonstrations, healthy food and drink samples. Also featured are soothing therapies such as Reiki, chiropractic, and massage.
Donations for participation in specific classes will benefit Southgate Community Center. The Kids Tent will offer storytelling, laughter yoga, and more, for all ages. New highlights are presented at this year's event, and all are invited to enjoy the variety of activities, free prize drawings, and many booths on Market Street through the day at the 10th annual Love Your Body Yoga Festival.
This Year's Highlights: Bhakti Bliss Stage-this year to highlight the art of Mantra, Music and Sound Healing Modalities. This stage will be at the corner of Library and Market!
Back by popular demand: Sound Temple tent, Image being immersed in beautiful sounds that are healing to your body, mind and soul. Demonstrations will be performed to experience relaxation and rejuvenation.
The event also launches the official start of the 10th annual Virginia Yoga Week, June 18 – 25, when yoga studios and independent teachers will be offering free, five-dollar, and Karma classes throughout the Commonwealth.
Love Your Body Yoga Festival classes and activities are available online. For more information, call Beloved Yoga, 703-860-9642, email maryam@belovedyoga.com