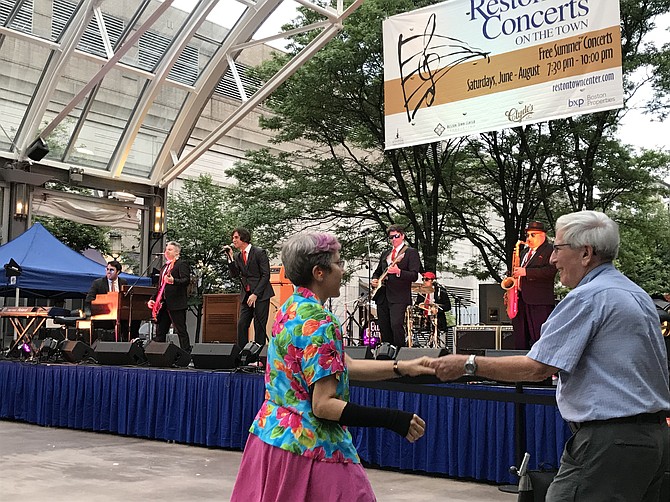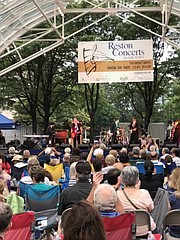 On Saturday evening, June 9, Reston Town Center hosted the second performance of the season for Reston Concerts on the Town, now in its 28th year. The evening performance featured Blues Beatles, a Brazil-based band that put a swing-jump blues twist on classic Beatles tunes. Marcos Viana, the lead singer, sang with heart and his voice led a dynamite performance that showcased individual and the collective band's skills as soloists.

On their website, Blue Beatles state their arrangements: "Combine blues and soul grooves that suit the vocals of the songs while adding a different feel to them. Instrumental solos and improvisation, typical elements of the blues, are an integral part of the Blues Beatles style."
Hundreds of local and regional families and individuals turned out for the event, many bringing their lawn chairs. Brenda Schaver and her husband Ala Ghosheh are new transplants to Reston, having relocated from a Northern Virginia suburb to the Town Center for its active and walkable lifestyle. They came prepared with their lawn chairs and even brought the family dog along who happily sat on Brenda's lap.

Schaver said, "We are starting to learn more about the activities here. This is our first concert at the Pavilion. We are set for Blues Beatles who seemed like a band we would like."

The weekly summer concert series features talented local and regional acts. The performances are always free, family-friendly and will take place every Saturday night now through Aug. 25, from 7:30 p.m.-10 p.m., rain or shine. The covered pavilion protects the audience, performance and audio equipment from the weather.
The concert series is made possible by a grant from Reston Town Center Association and supported by Boston Properties, the owner of Reston Town Center.

The upcoming 2018 Summer Lineup features a wide range of styles including Latin fusion. Bluegrass, zydeco, jazz and Motown. Highlights include returning favorites such as local jazz favorite Chuck Reed on June 23, performing with jazz harmonica virtuoso Hendrick Muerkens, renowned trumpeter/vocalist Byron Stripling and bassist/ vocalist Nicki Parrott.

New this year is T Sisters from Oakland, Calif.
With many talented local and national acts in between, the season wraps up on Aug. 25 when the 2011 winner of America's Got Talent, Landau Eugene Murphy Jr. returns with his big band.