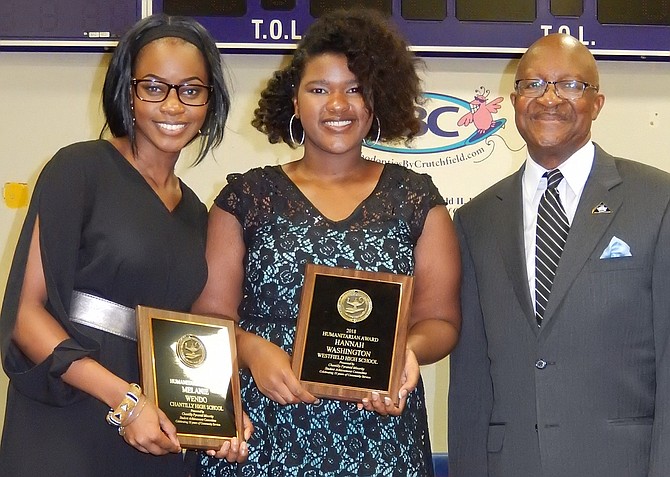 The Chantilly Pyramid Minority Student Achievement Committee (CPMSAC) held its 34th annual Youth Motivation and Academic Achievement Awards Program on Saturday, June 2, at Chantilly High. Honored were middle- and high-school students, and the theme was "Pursuing Higher Student Achievement and Academic Excellence."
Stressing that it's an all-volunteer committee, CPMSAC President Johnny Nelson told the crowd, "My late wife Shirley started this organization to eliminate the achievement gap. And when I look around here, I see it happening."
"This is a time to celebrate," said master of ceremonies Chuck Coffin. "We're going to have fun today and enjoy the ride. CPMSAC has been in the business of motivating and encouraging youth for 34 years. And those of us involved in it love that organization so much that – even after our own children are no longer in the school system – we're still participating."
He said CPMSAC always strives to uphold its motto, "Only Excellence is Good Enough." And he noted that more than 2,000 students were attending the awards ceremony.
"I congratulate all the awardees for a job well-done," said Coffin. "Continue to stay focused on your academics; they'll be responsible for your future success. Shirley Nelson was passionate about what this organization is all about. I believe she's smiling down from heaven on us, and we'll continue to honor her spirit."
Several Fairfax County government and school leaders were there, too, including Chantilly Principal Scott Poole. "Speaking also as a Chantilly parent and community member for 14 years, my first priority is small success attainable by every student," he said. "Without that, students will not have hope when they come to school. They should be in a place where they can be accepted for who they are, not [singled out for] who they are not."
Supervisor Kathy Smith (D-Sully) said she was happy that "This year, the Board of Supervisors was able to fully fund the schools." Noting that "Shirley had such a big heart for kids," Smith then thanked CPMSAC for all it does, the students for working so hard and their parents for supporting them.
"We're all so very proud of you," Sully District School Board representative Karen Keys-Gamarra told the students. "We know you have it within you to achieve what the world is waiting for, so you can go out and change the world."
Region 4 Assistant Superintendent Angela Awater said the school system will "continue to support our students, parents and teachers to make sure all students have the same opportunities so we can close the achievement gap. And we challenge you to continue to set and achieve your goals so you can have a prosperous and bright future."
Then, paraphrasing CPMSAC's Parent Involvement Statement, Coffin reminded parents that they "must stay involved and be an advocate for [their] children." He also told them to talk to school counselors and administrators about any problems their children are having.
He also plugged the Saturdays Toward Excellence Program (STEP), the free tutoring available at Chantilly High. Said Coffin: "This year, 53 students in grades three through 12 participated and had great results." For more information, go to http://www.cpmsac.org/.
Next, before all the students at the ceremony received their individual achievement awards, some special awards were presented to particularly outstanding students. Reina Hudspeth of Centreville High and Andrea Coca Gonzales of Chantilly were each given a Shirley O. Nelson Memorial Scholarship of $1,500.
Cameron Guy Dudley Book Scholarship awards of $400 each were presented to Hana Lee, Centreville High, and Rayna Easley, Deron Banks-Dawkins and Gabriel Alexander Berrick, all of Westfield High. This scholarship is named in honor of a young man who was part of CPMSAC, Boy Scout Troop 1995, SYA and CYA and died in 2008 while still a student at Westfield.
The highest honor CPMSAC gives is the Humanitarian Award, presented to students highly regarded by their peers and school faculty. These students have also contributed to their schools and to the lives of others and have been involved in community service.
This year, the high-school winners were: Melanie Wendo, Chantilly; Hannah Washington, Westfield; Mya Baptiste, Centreville; Derrian Brown; Mountain View; and Tagwa Shammet, Oakton. The middle-school winners were: Israel Hanberry, Stone Middle, seventh grade; Darwin Otchere, Rocky Run, eighth grade; Shayla Brown, Lanier, eighth grade; and Jaden Haile, Rachel Carson, eighth grade.