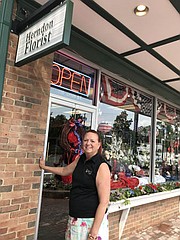 Throughout the Northern Virginia region and in the Town of Herndon, boxes are popping up in businesses asking for supplies to send with the Virginia Hospital Center Medical Brigade, a 501(c) 3 and UAAID PVO registered organization. The Brigade sends teams of experts to communities in Honduras where they provide services unavailable to the poor such as surgeries, physical therapy services and training, vision screening and eyeglasses, and public health education.
Recently, Beth Meyer, co-owner of Green Lizard Cycling in Herndon, learned an employee at the store beside hers was going with the Brigade on their next trip this fall. Anita Miller would be providing critical assistance to the Brigade working with other volunteers to help prepare three meals a day for the eighty doctors and nurses.
Although Meyer could not go to Honduras, she too wanted to make a difference. Knowing the Brigade had posted a Wishlist on their website requesting specific items for donations, Meyer set a donation box out in her store. On behalf of the Brigade, Meyer asked patrons to donate diapers, liquid Tylenol for infants, and matchbox cars.

In a one-week period, patrons of the Lizard filled the box. Meyer plans to deliver the supplies to the Virginia Hospital Center at the end of the month. The Wishlist for the Virginia Hospital Center Brigade includes soap, individually wrapped toothbrushes, small tubes of toothpaste, Liquid Infant/Children's Tylenol, Liquid Children's Ibuprofen, Children's sunglasses and ball caps or visors, crutches and wheelchairs, a portable ultrasound machine, a steam sterilizer and more.
For more information regarding donations as listed on the Brigade's Wishlist and to donate items from the Amazon Wishlist, visit www.vhcmedicalbrigade.org/donate-now-page.