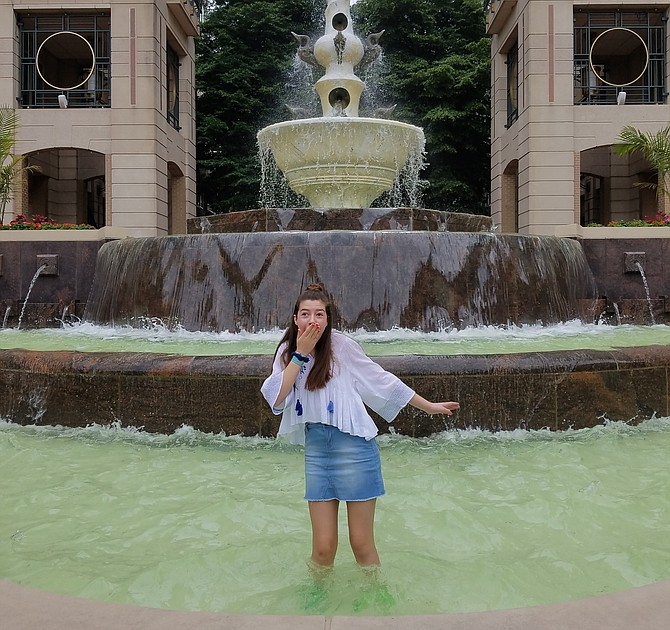 How to See It
"DIY With Me," featuring Sissy Sheridan, releases a new episode on Nickelodeon's YouTube Channel on Saturdays at 10 a.m.
Maniac will premiere on Netflix on an unspecified date later this year.
Follow Sissy on Instagram @sissysheridanofficial.
A Reston child actress recently landed roles working for both Netflix and Nickelodeon. Sissy Sheridan, 13, was acting for years before her most recent roles, however, performing in local theater shows for the past seven years.
"I started [acting] when I was 6 years old doing theater camps," she said. Her first professional experience came two years ago in a production of "Roald Dahl's Willy Wonka" at NextStop Theater Company in Herndon.
Sissy moved into film around that time, appearing in four short films, multiple commercials, and with minor roles in multiple TV shows including "The Unbreakable Kimmy Schmidt" and "Mozart in the Jungle." Her new Nickelodeon Web series is a major step forward for her in the world of film.
"Originally [Nickelodeon was] looking for crafters who can act. I am more of an actor who crafts so I didn't want to get my hopes up to get disappointed. But then they came back a couple weeks later looking for actors who can craft. So I sent in a video I made and edited for my audition and got a callback." The callback consisted of making her own craft with only a water bottle, tape, paint, and scissors. A few weeks later, Sissy's mother heard from her manager that Sissy was offered the job. Instead of telling Sissy right away, her mom had her manager call her. "My mom came into my room filming when I got a call from my manager who asked me 'how would you like to have your own Nickelodeon Web series' and I was crying from excitement." Three episodes of her show, DIY With Me, have been released on Nickelodeon's YouTube channel so far, with five more left in the season. If views stay up, there is a chance for her to star in another eight episode season of the show.
Her current projects reach further than just YouTube, with a role in an upcoming black comedy series called Maniac on Netflix premiering later this year. "I started working as a featured extra for three days," Sissy said. "The next week I got a call and was asked to come back as a co-star with a speaking role. It was an amazing experience working with so many incredibly talented people and I cannot wait for it to come out." Sissy worked with actors like Jonah Hill, Gabriel Byrne, Billy Magnussen, and Jemima Kirke on the series. Details as to the plot and Sissy's role in the show are kept pretty heavily under wraps for now, but more info can be found on Netflix's website.
When asked about her plans for the future, Sissy shared that "right now I really enjoy film and TV, but in my heart I am always going to be a musical theater person." She wants to focus on film and TV for now, but "My dream is definitely Broadway." Her dream musicals? Playing Jenna in "Waitress" or Eliza in "Hamilton." Until they make an all-female cast for "Hamilton," where she would rather be Aaron Burr. "But right now I want to keep trying to advance in TV and hopefully get a role on a Nick TV show. Just trying to keep working my way up!"