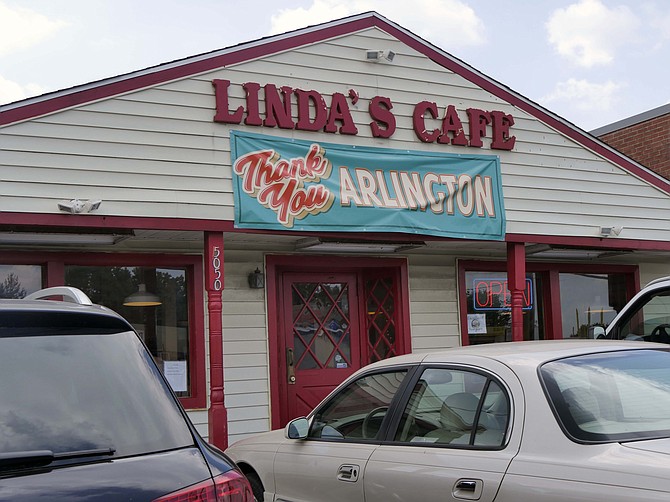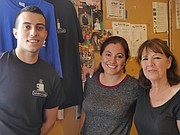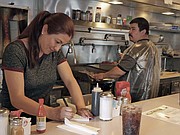 "Long story short. We leased Linda's Cafe month-to-month for 21 years from the same landlord. It is a very old place, and we wanted changes. But nothing happened. We just went on livin', livin'." Elian Ayman, the son of the owner, continues. "Then on May 31 my father got a call from the landlord that the building had been sold and we had 30 days to vacate."
Ayman says at first his father was devastated, and then after a couple of days he said, "I have to do something about it." A lawyer has managed a one-month extension, and they are starting to look for another location for a new breakfast diner. The serving staff is looking around for other jobs but hoping that they will be able to stay together in a new location. The current building is at 5050 Lee Highway.
Marianna Grandi, who has worked at Linda's for 19 years, says, "Customers have been coming in crying." And she says, "I live my life here. My daughter has worked here for 16 years, you know the one with the long hair? I'm looking for other work until they find a new location so we can be together again as a family. We thought we would be here forever."
Grandi adds that most of the people are regulars who come in and order the same thing. "I get their ticket ready when I see them coming in. It makes them feel at home." As if to illustrate, she waves to a departing customer, "Bye daddy. I've known him for years." She points to the post beside the lunch counter plastered with pictures of children. "These are my children. I've seen them grow up and have their own children."
Ayman says 99 percent of the customers are regulars — "the Marymount students, Virginia Hospital employees who are sick of their cafeteria food, Yorktown kids and teachers, families on weekends." He points to the corner where Kamal Kamal sits finishing his breakfast. "He is a professor and helped me with my homework. He got breakfast and I got a free pre-cal tutoring lesson."
Ayman started working on weekends as the prep guy in back when he was 16. Then he graduated from Yorktown High School in 2012 and worked part time while attending NOVA and then moving on to Radford.
Edie Cifuentes, who has been a waitress at Linda's for nine years, says there is a customer who has come in every morning at 8 a.m. for the last five years for the same breakfast of eggs, bacon, home fries, white toast. Another customer always gets fresh sliced strawberries and strawberry syrup just special for him. Cifuentes remembers a couple who come in on the weekends and get chocolate chip pancakes and apple juice. "That's the thing about eating here; you can get what sounds like a kid meal or anything you want." Ayman adds, "This is a place families like to come. Our grill is open. People bring their children to watch us cook, the whole experience."
Cifuentes says there is a customer who gets waffles to go at least once a week. "We call him 'Waffle Man.' Actually it is Uriel DeLeon, my husband, and one time when we were dating he brought me waffles to go."
Cifuentes adds that this is just like a family. Ayman says, "Our turnover rate is zero. It is very rare. Nobody quits." He adds, "Our chemistry is amazing, the way we all work together." Ofelia stops by with a question. She has worked at Linda's for 13 years. "Ofelia's our right hand, always here, the backbone of the restaurant."
"Linda's Breakfast Platter please." Ayman explains, "that is the most popular choice for breakfast, the simple breakfast platter." And for lunch, he points to all of the burger choices on the menu. "They are the most popular lunch selection because they are fresh and homemade." At the bottom of the list is Jerome's choice, a burger with an egg. "It is named after one of our waiters. He's the best. He fell and broke his hip just a week before we got the notice the restaurant had been sold." Ayman heads over to the grill to assist cook Feliciano DeLeon (Philly) with a couple of eggs.
Meanwhile, customers drift through the door commiserating with each other: "I'm going to be sure I eat here at least once a week for the time they have left."