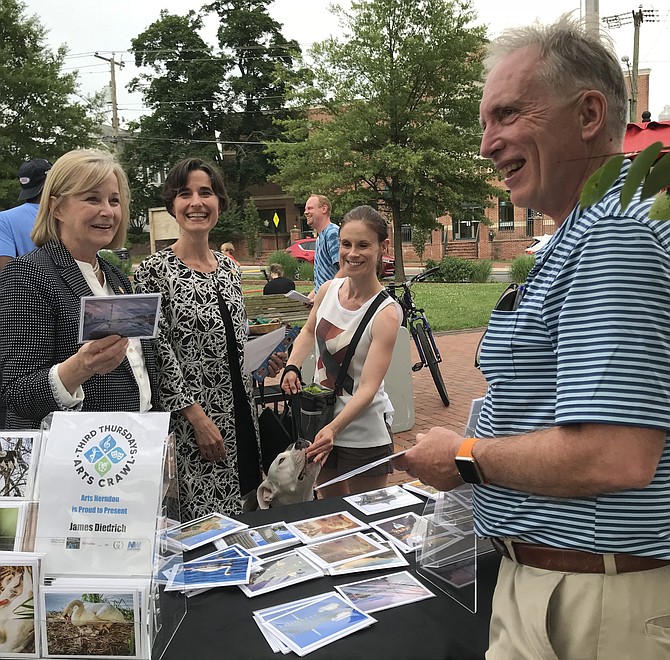 The Arts Herndon Third Thursdays Arts Crawl series opened for its second annual summer season on the evening of Thursday, June 21, after being rained out in late May. The free family-friendly event featured a casual, small-town outdoor shopping experience and an eclectic selection of works by local artists, artisans, makers and creative entrepreneurs, all of whom were on hand to chat with the public.
Free face painting, children's hands-on-art, lawn games, music, chalk festival and samplings from Jimmy's Old Town Tavern, an iconic local eatery, added to the fun. Visitors could also explore the adjacent Herndon Depot Museum operated by the Herndon Historical Society that houses railroad and maritime memorabilia.
The Third Thursdays Arts Crawl series is held once a month May through September, 6 to 9 p.m., with an "encore" crawl scheduled in October. The series is currently held on the Town Square and lawn in front of Herndon's Old Town Hall located at the corner of Elden and Station Streets in the Historic Downtown District directly off the W&OD Trail. The Town Square is wheelchair and stroller accessible.
Plenty of free parking is steps away.
The next crawl is Thursday, July 19, the third Thursday in the month, followed by the two subsequent crawls scheduled on Aug. 16 and Sept. 20. The series wraps up with a "blow-out" crawl on Thursday, Oct.11 during Herndon Arts Week Oct. 8-14, an entire week of area arts events.
The Arts Herndon Third Thursdays Arts Crawl series is supported in part by Northwest Federal Credit Union, Doll Homes, Jimmy's Old Town Tavern and many other supporters of Arts Herndon.
For more information on sponsorship/vendor opportunities and how to become involved with Arts Herndon contact Jason Dimambro or Anna Schoenfeld at www.artsherndon.com or call 703-956-6590.