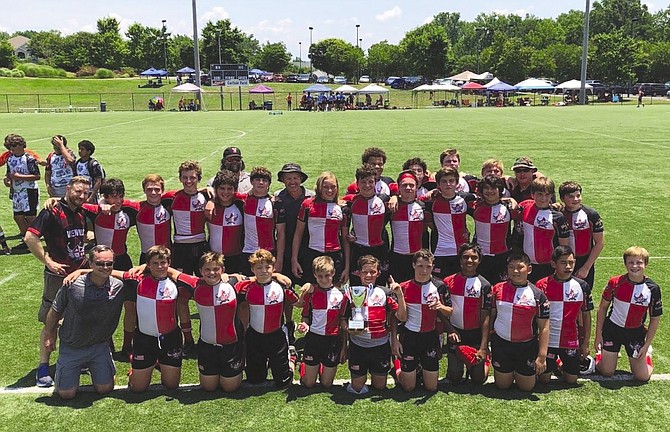 A season that began with lofty goals and high expectations culminated with a Middle School National Championship: On June 16 - 17, 2018, in Rock Hill, S.C., the Vienna Youth Inc. Middle School Rugby Team, by virtue of winning the Virginia State Championship, earned the right to compete in the "Ruck in Rock Hill" Middle School National Championship tournament (http://rugbynit.com/).
The tournament commenced with Vienna facing Mean Green, a Charlotte, NC Regional All-Star Team and 2017 National Title runner-up. It was a highly contested battle in which Vienna took a 14-7 lead late in the second half. The Mean Green responded with a score tying the match at 14 with less than 2 minutes remaining in the game. The game ended with Vienna attempting a game winning kick that was on target, but which fell just short of the crossbar. Final score: Vienna 14 – Mean Green 14.
Vienna's second match was against Orange Crush, an All-Star Team from South Carolina. Vienna got off to a quick start scoring 5 tries and taking a 35 – 0 halftime lead. Vienna scored 4 more tries in the second half while giving up 2 tries. Eight different players accounted for the 9 tries scored by Vienna. Final score: Vienna 57 – Orange Crush 12.
The next day, Vienna's third match was against the defending National Champion, the Virginia Wild Boars, a team comprising All-Stars from teams throughout Virginia. The week prior, the Wild Boars had handed Vienna its first defeat of the season in a friendly match. This time, the Wild Boars took a 7 – 5 lead into halftime, but Vienna rallied in the second half, scoring 3 tries while holding the Wild Boars scoreless. Final score: Vienna 22 – Wild Boars 7.
Heading into the fourth and final game, Vienna and Mean Green were tied on the leaderboard with Vienna holding a slight edge in the event of a tie-breaker.
Mean Green's final match immediately preceded Vienna's final match.The score: Mean Green 19 – Wild Boars 19. The Mean Green tie set the stage for an intriguing final game; Vienna vs. Triangle, a Raleigh-Durham Regional All-Star Team. A win or tie by Vienna would result in Vienna winning the National Championship. A loss would result in either Mean Green or Triangle winning the title and Vienna finishing third.
Triangle jumped out to an early 7 -0 lead. Vienna tied the score at 7 on the final play of the first half. Vienna dominated the second half scoring 5 tries while giving up only 1 try. Final score: Vienna 38 – Triangle 14.
Zach Cash was named Tournament MVP and awarded the Championship Final game ball.
"All 27 players who competed in the tourney contributed to the win. Another two dozen teammates who did not travel to Rock Hill were instrumental in helping prepare the team to achieve the pinnacle of Middle School Rugby success in America" said Vienna head coach Kendall Erickson. "I am very proud of every one of these young men, the coaches, and all who contributed to a goal we have been building toward for years. They have fought a good fight, they have earned the prize, and they will remember this experience with pride for the rest of their lives."