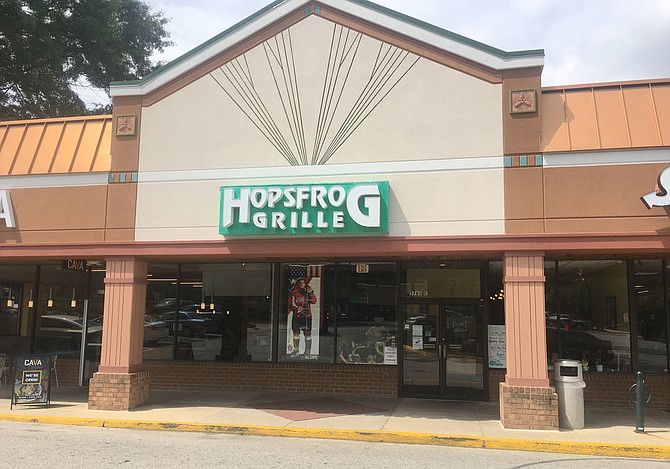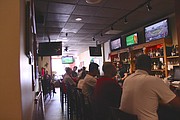 "The owners are very good people. They care about what they're serving and how [the customers] get served," said Paul Fouché, a customer at Hopsfrog Grille for 20 years.
In fact, manager Kostas Daskalakis cares so much, that he's decided to expand his local bar and grill mid-July to accommodate more customers. Affectionately referred to as the community's "living room," the future Hopsfrog Grille is under construction only a mile away in the Walmart shopping center on Burke Commons Road.
In business for more than 20 years, the local restaurant has been operating under tight space for the last decade.
Previously a TitleMax, the new Hopsfrog building must be entirely converted to fit the restaurant's needs.
"We're building it from scratch. New kitchen, new everything," said Daskalakis.
The community-knit bar and grille found its beginnings after Fritters sold one of its chain restaurants to Daskalakis. The new manager decided to upgrade both the menu and the name.
Enlisting the help of customers and employees, Daskalakis learned that Edgar Allan Poe, the American author of the short story "Hop-Frog," once lived near the area. Adding an "s" on the end of "Hop" created a play-on-words for an ingredient in beer.
Customers now bring frog items for Daskalakis to display, ranging from green plushies to decorative amphibians.
"I have boxes and boxes of frogs…we don't even have space to put them all," said Daskalakis. "I'm pretty sure I have at least 200 frogs just sitting around."
But the community's living room extends beyond good food and pond-life displays. According to Daskalakis, customers drove to Hopsfrog to be together during the fateful Tuesday in Sept. 11, 2001 when hijacked airplanes slammed into the side of the World Trade Center.
"On a day where the whole nation is in turmoil, they go to Hopsfrog trying to find some comfort, some connection to what they recognize," said Daskalakis.
Now with the upcoming move, Daskalakis wants to maintain the sense of family the restaurant is known for.
"They say this space is their living room. It's where they meet before a wedding, sometimes after the wedding, where they meet when there's a death, a funeral, a celebration, a birthday. This is the space where they celebrate life when they don't want to be in their space or their house. …I don't want them to lose this option."