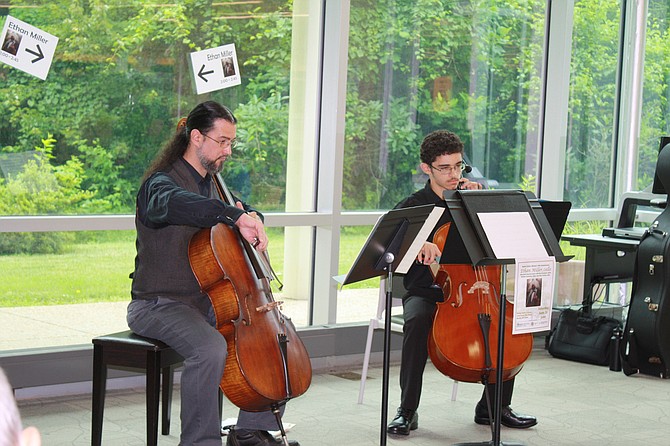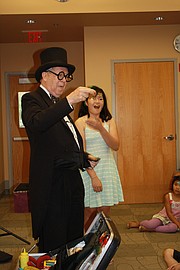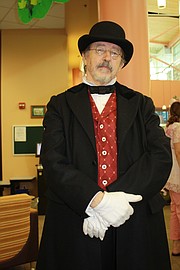 When the derecho struck on a summer day a few years ago, the Burke Centre Library became more than just a place to read and browse the internet. Since the library was the only building with electricity in the area, the library stayed open, and Burke residents flocked there to enjoy the air conditioning and charge their phones, earning the library the reputation as a community resource and gathering place a place in Burke.
On the library's 10th anniversary event, Saturday, June 23, the camaraderie at the library was present again, as parents and children stopped by to enjoy the celebration.
"We helped develop that culture here," said Linda Schlekau, a library employee who was the manager then. She is now at another library in the county but came back to take part in the anniversary. "We got to meet a lot of new people during the storm," she said.
Schlekau talked about the role of a neighborhood library that lets people explore, discover and learn. "We do great things to help them reach their goals," she said, pointing at a youngster sitting on the cabinet with his father. "Hopefully we will have made an impact on someone like that," she said.
The anniversary celebration included a day of festivities such as scavenger hunt, face painting, magic show, musicians, a puppet show and local authors. All day long, people came and went on a cloudy but warm summer day.
Perusing the crowd in his vintage attire, Silas Burke, aka Jon Vrana, the historical dramatist showed off his 1800s attire.
"Silas was a gentleman farmer," Vrana said, listing some of his accomplishments back in the day, including the land along the Pohick Valley he donated that became part of the Orange and Alexandria Railroad. "He helped establish the railroad," Vrana said. Vrana is the president of the Burke Historical Society.
Turley the Magician, aka Hugh Turley, had a room full of children and parents in his trance, and the magician had everyone guessing where the egg was or what happened to it. He called a volunteer from the audience named "Elizabeth." The egg went into the bag, he urged the audience to say the magic words "abracadabra," and voila, the egg turned into a glass of some liquid which he drank. "It's gone, we're going to make it come back though," he said.
In the main room, music teacher Ethan Miller had students from Oakview Elementary School and Robinson Secondary School playing music on violins and a viola.