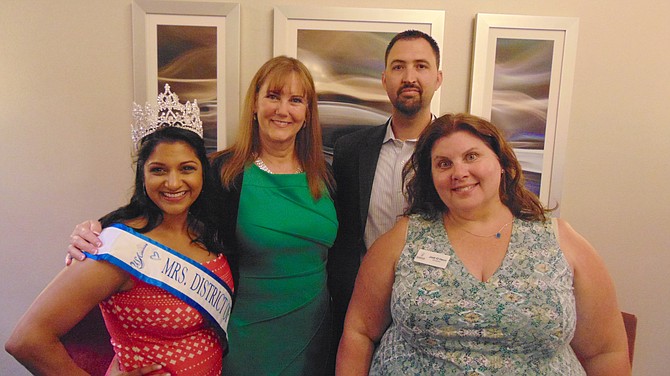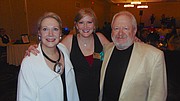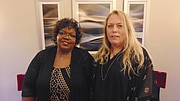 In an effort to combat human sex trafficking, the Just Ask Prevention Project and Airline Ambassadors hosted the 'A Night to End Human Trafficking' reception on Friday, June 8, 2018, at the Springfield Hilton Hotel, which donated the space. The evening included live music by the band Downland, a silent auction, a 50/50 raffle, hors d'oeuvres and a cash bar for more than 50 people. It also helped raise awareness and funds for educational videos and curriculum development for the Just Ask program.
"Our main focus areas are educating youth and the communities about the issues of human trafficking so we've developed some pretty comprehensive and robust prevention programs that we've implemented throughout the Northern Virginia region and in other parts of the United States," said Bill Woolf, Founder of the Just Ask Prevention Project, which started in 2013.
"We're bringing the community together to raise some money but also to raise awareness about how prevalent the issue of human trafficking is – particularly in Northern Virginia and domestically in the United States."
He continued: "We want people to be able to come out and enjoy themselves and support this cause. Unfortunately, human trafficking is such a terrible issue that so often it's very depressing and we want to try to bring an event like this where we can do it in a good environment, people can enjoy themselves and we can also educate them about the realities of the issue."
According to Nancy Rivard, President of Airline Ambassadors: "Tonight we're so thrilled to be here with Just Ask because we're looking at ways they take our efforts, awareness and prevention on human trafficking global. Just Ask is doing it locally; Airline Ambassadors is doing it globally. We hope tonight to raise money for some more videos to educate the travelling public and the general public."
KEYNOTE SPEAKER Barbara Jean Wilson, a victim of sex trafficking from age 8-13, shared her story of how her mother trafficked her out to help pay the rent. "Because I was introduced to drugs at such an early age – because some of the abusers were feeding me drugs and alcohol, I got into the drugs, the alcohol, and the prostitution," she said.
Her life changed in 1993 when she gave it over to Christ, she said. "God's just been opening up doors for me to go speak at different places," she said. "He's been with me ever since and I've been sharing my story." In 2003, she started writing her book, "Mute But Now I Speak," and then doing public speaking. And three weeks ago, she was invited to talk at the United Nations.
Kavita Nanavati is a certified trainer for Airline Ambassadors and the Mrs. District of Columbia USA Ambassador 2018 who emceed the event. "I saw (trafficking) happening in an airport and I didn't know how to go about handling the situation, what the different things you look for, how to approach somebody, what are the right questions to ask. I will never forget that girl. When I won my title, I wanted a platform that meant something to me and so human trafficking felt right at home," she said.
She continued: "Now I have the training and I am a certified trainer for Airline Ambassadors teaching other people and other airline crew members and other people in the community about the importance of human trafficking awareness."
JUST ASK Prevention comprises a multidisciplinary group with experience in fighting human trafficking. Since it was founded, Just Ask Prevention has held more than 90 school campaigns, allowing its educational materials to reach more than 90,000 teens. Its programs educate about human trafficking, along with teaching the warning signs, to help prevent youth from falling into a trafficker's traps. In addition, Just Ask Prevention has educated more than 800 organizations, offering tools and resources, while equipping professionals with the skills to safeguard communities.
Airline Ambassadors International has been a leading advocate for awareness of human trafficking in the aviation industry since correctly identifying trafficking on four different airlines in 2009. They developed the first industry-specific training which has been provided to more than 6,000 front line personnel at airports in the United States and across the globe, enabling the scanning of 144,000,000 passengers. Their TIP Line App has generated 1,000 "tips" to law enforcement, helping to intercept trafficking situations and save lives.