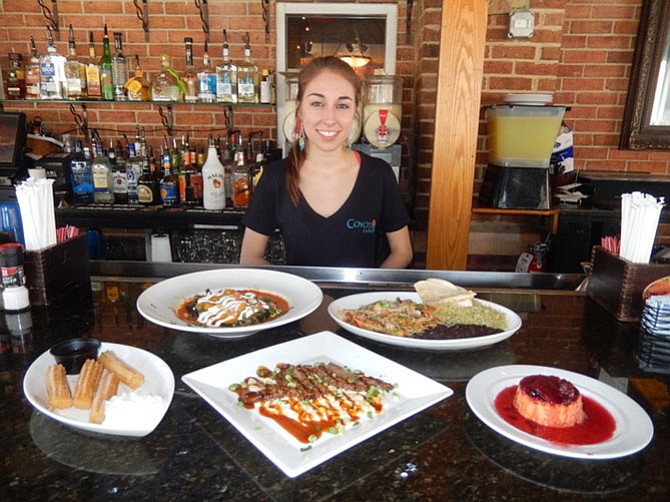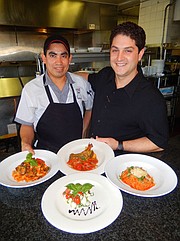 Fairfax City has a wide variety of restaurants offering outstanding dining experiences. Besides popular standbys on the local scene for years, several new restaurants have either opened here recently or will do so soon.
So to showcase the caliber and diversity of its culinary cuisine, the City is holding its first-ever Restaurant Week. It's set for March 4-10, and participating restaurants will offer a $35, three-course dinner menu; a $20, three-course lunch/brunch menu; and dine-in specials.
Taking part will be: Coyote Grille, Dolce Vita Italian Restaurant and Wine Bar, 21 Great American Bistro, Hamrock's, High Side, Eastwind, French Quarter Brasserie, Marumen, Curry Mantra, Bellissimo, The Auld Shebeen, The Wine House, Primetime Sports Grill, P.J. Skidoos, 29 Diner, PampaSazone, and Breakers Korean BBQ & Grill.
"We have an excellent base of restaurants here in the City, and we wanted to tie them all together into a culinary identity for Fairfax," explained Fairfax Economic Development Director Chris Bruno. "We can do this by hosting a Restaurant Week, and it will definitely be impactful."
"Besides making the public more aware of our restaurants, it also shows there's an excitement and vibrancy surrounding the Fairfax City business community in general," he continued. "It's important that we stand out from the Greater Washington Restaurant Week in the spring."
The Economic Development Authority and Central Fairfax Chamber of Commerce are partnering to share the story of Fairfax's growing restaurant scene. The goals are to solidify Fairfax City as a regional dining destination and increase both business and brand recognition for the participating restaurants.
"We want to showcase what makes our restaurants special," said Bruno. "The diversity of our dining options is unparalleled. We have everything from modern American to Asian fusion to classic Italian – and then there's the 29 Diner, which is a regional, dining destination itself."
All these restaurants already existed, he said, but "This event really establishes a restaurant community," with the various places coming together "to make the City of Fairfax synonymous with going out for a good meal. I hope it's the first of many Restaurant Weeks here."
Two of the local restaurateurs spoke with the Connection to give residents an idea of what's in store for them during this event. And both of their restaurants – Coyote Grille and Dolce Vita Italian Restaurant and Wine Bar – are offering four dinner courses, instead of three.
DOLCE VITA
First course will be a choice of Insalata Caesar: Crisp romaine lettuce with homemade Caesar dressing, baked croutons and fresh-grated Parmesan cheese; or Mozzarella Caprese: Fresh homemade mozzarella, cherry tomatoes, basil and extra-virgin olive oil.
Second course is a choice of Capellini Pomodoro: Homemade, angel-hair pasta tossed in tomato-basil sauce; or Vegetable Risotto: A mix of caramelized onions, roasted peppers, zucchini and sweet peas sautéed in a creamy risotto.
Third course is a choice of Pollo alla Cacciatore: A braised, chicken leg quarter in a classic Italian hunter's sauce of mushrooms, peppers and onions served over fried polenta; Vitello alla Piccata: Tender veal scaloppini sautéed in a lemon, white wine, caper and butter sauce, served with chef's choice of vegetable; or Fettuccine Arrabiata: Homemade fettuccine pasta with olives, capers, onions, fresh tomatoes and spicy cherry peppers in a tomato sauce.
Fourth course is a choice of Mini Cannoli or Mini Creme Brulee.
Executive Chef Anthony Grasso created the menu; and for an additional cost, Dolce Vita will provide wine pairings.
The restaurant opened in 1995, and its Cicchetti Wine Bar has been open six years. "Dolce Vita offers great food from all over Italy," said owner Cyrus Coleman. "Our focus is on fresh ingredients and simplicity – which are the roots of most Italian cooking. Our chef is Sicilian, and we probably have the oldest, wood-fired oven in Northern Virginia."
And the wine bar also serves cicchetti – Venetian-style, happy-hour foods. There's a tapas-type menu offering, for example, Pepperoni Roll Bites, Octopus with Herb Sauce and Gnocchi Carbonara.
Regarding Restaurant Week, Coleman said, "We feel like Fairfax needed to highlight its restaurants more. And we're a big advocate of getting people into the City to see all it has to offer, in addition to bringing awareness to Dolce Vita."
Besides the normal dishes, the restaurant also offers seasonal meals, including braised veal shank, currently on Saturdays. And, added Coleman, "We have a huge garden out back where we grow five, different varieties of heirloom tomatoes, plus zucchini and squash. We even use the squash blossoms in summertime dishes."
COYOTE GRILLE
First course is a choice of Pueblo Portobello fries with Jalapeño Ranch Dressing; Southwest Corn Tamale with Pulled Pork topped with Ranchera Sauce; Butternut Squash Soup topped with Queso Fresco or Roasted Red Pepper Soup.
Second course is a choice of Quinoa-encrusted Rockfish Bites topped with Zesty Tomato Salad; Carne con Crema de Maiz; Mojo de Ajo Shrimp with Chipotle Mayo; or Papa Relleno (Stuffed ground beef, potato and vegetables) with Salsa Verde over Southwest Slaw.
Third course is a choice of Pistachio-encrusted Barramundi Sea Bass topped with Fresh Berry Salsa over Cauliflower Mash; Chicken Diablo: Sauteed chicken breast, zucchini, squash and Pico de Gallo in Chipotle Cream Sauce over Chili Rice; Steak Rajas: Tender strips of steak, onions, peppers and garlic sauteed in Southwest Cream Sauce sprinkled with Parmesan cheese and served with black beans and green rice; or Veggie Chili Relleno filled with potato, rice, carrots, peas and cheeses topped with Tomatillo Sauce over black beans.
Fourth course is a choice of Cheesecake Chimichanga dusted in cinnamon-sugar, topped with Caramelo Sauce and whipped cream; Key Lime Pie topped with whipped cream; Mini Churros with Ibarria Chocolate Sauce; or Sweet Potato Flan topped with a fresh berry compote.
Coyote Grille has been in Fairfax for 16 years, and owner Tatjana Farr calls it a fusion of fresh, Southwestern U.S. and Mexican cuisine. "We're known for our unique dishes, such as Southwestern Grilled Salmon with a roasted red pepper sauce, Carne Asada – marinated skirt steak, our salads, wide variety of tapas and our delicious, hand-shaken margaritas," she said. "We also have friendly servers and offer a four-season sunroom/patio."
Currently, said Farr, the restaurant is moving to locally sourcing its food, beer and wine. "We'll use local eggs, meat, dairy and produce, where possible," she said. "We'll continue being community-based, and we'll offer suggested local beer, wine or spirits pairings with the food. For example, we're working with MurLarkey, a Manassas distillery, and we'll have beer from Mustang Sally Brewing Co. in Chantilly."
She, too, is excited about Restaurant Week because "There are so many dining options, and it's easy to underestimate what's available in the City. Fairfax City is a little gem, very walkable and community-minded. I think we should do more Restaurant Weeks because we have a sophisticated client base in the area, and people appreciate good, local, non-chain restaurants."
"My customers understand quality food and good dining options, and that's why they come here," continued Farr. "So it's nice to showcase that through Restaurant Week."
The week also includes social media contests, government official meet-and-greets, local product features, Meet the Maker events, charitable giving, live entertainment and drink pairings.
THE HOPE IS THAT people will come "Take a Bite of Fairfax City" and discover all the dining and beverage delights the City has to offer. Diners are also encouraged to use #TakeABiteOfFairfaxCity when posting about the event on social media. For more information, visit fairfaxcityrestaurantweek.com.
"The landscape of dining establishments in Fairfax City has evolved rapidly over the past couple years," said Fairfax Mayor David Meyer. "We are certain that restaurant fans throughout the region will be pleasantly surprised by the globally diverse and many locally owned dining options the City has to offer."