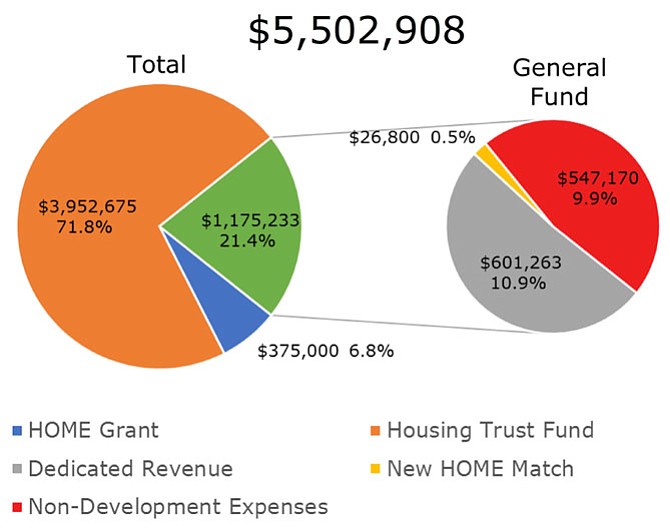 At its legislative meeting on Tuesday, City Council began considering potential new dedicated funding sources to close a gap in meeting the city's affordable housing goals.
"The Housing Master Plan's 200 new/preserved units per year production goal between now and 2025 cannot be met with the current funding stream. There is an approximate 880-unit funding gap, which to close would cost some $75,000 per unit, and cost some $66 million through 2025 to meet," said City Manager Mark Jinks in a December memo. The memo responded to Councilman Willie Bailey's earlier request about the feasibility of raising the city's restaurant meals tax in order to generate more revenue for affordable housing.
City staff presented council with five options that could go toward closing this gap:
Meals Tax: "A [one percent] increase in the meals tax would raise some $4.75 million annually and produce about 63 units per year or 441 units by 2025," according to Jinks' memo. While it would add an average 16-cents to a $16 meal, the increase "would not negatively impact restaurant sales." Non-residents account for 69 percent of meals tax revenue.

Voluntary Contribution of Restaurant Bill: This would be akin to certain grocery stores' option to donate at checkout. About a third of all restaurant patrons would have to contribute 50 cents in order to generate revenue comparable to the meals tax increase.


Real Estate Tax: A 1.2-cent increase on the real property tax rate would generate comparable revenue and would add about $66 per year to the average household tax bill. This would be a "more stable and reliable source of funding than voluntary contributions," but would come disproportionately from the residential tax base, said Morgan Routt, the city's budget director.

Personal Property Tax: A 70-cent increase on the vehicle tax would generate comparable revenue and add about $70 per year to the tax bill for a car with an assessed value of $10,000.

Transient Occupancy Tax: A 1.6 percent increase, plus $1 per night, would generate comparable revenue and add $3-4 dollars per night to the cost of a hotel room. Like the meals tax, this option would shift the burden to non-residents. However, combined with other taxes, it would bring the overall effective rate to 18 percent for hotels, "which would approach non-competitive levels," said Routt.
Council members reacted with various levels of support, particularly with respect to whether revenue streams should be dedicated to particular uses, or budgeted from the General Fund.
The city's progress on affordable housing projects "is nothing to brag about," since "we're still falling behind," said Bailey.
"Since the year 2000, wages have gone up an average of about 33 percent, while the cost of rental housing has gone up 95 percent, and the cost of home ownership, including for condos, 178 percent," said Helen McIlvaine, the city's housing director. More than 16,000 (90 percent) of units, which were "market affordable" in 2000, are no longer affordable. Higher housing costs mean that many low- to moderate-income households "don't have funds for healthcare, education, daycare and savings."
"If we're going to dedicate funding to anything, it should be the most basic need of a human being," said Bailey. "I've heard us mention several times up here what we value. … Don't tell me what you value; show me what your budget is, and I'll tell you what you value. … We need to stop talking and do something. That's why I put forth that one-cent meals tax, because I'm tired of talking. … If this city is for the rich and famous, let me know, so maybe I need to move."
"We all have a shared goal. … [But] I'm personally against dedicated funding, as a philosophy. If we have a fundamental need, then it should be part of the budget. … For anything. … Why not dedicated funding for schools? … For a whole host of things?" said Councilman Paul Smedberg. "If there's one issue that cries out for a regional approach, it is this one."
"If it's a priority in the community and something we should do, budget for it and do it," said Vice Mayor Justin Wilson. "My view, regardless of whether it's affordable housing, open space, schools, or whatever else, is that we should raise enough city revenue for the services that are important to the community, place that revenue in the General Fund, and then adopt a budget."
Jinks' FY19 budget proposal includes $5.5 million for affordable housing development and preservation, including certain staffing and administrative costs to run McIlvaine's department. The current dedicated funding stream for affordable housing — 0.6 cents on the tax rate — would provide $600,000 that isn't tied to debt service for past projects. Jink's proposed General Fund operating budget totals $742 million; his proposed All-Funds operating budget totals $910 million; his proposed 10-year Capital Improvement Plan (CIP) totals $2.1 billion.
"To the comments about doing this as part of the budget process, making changes to how and what level of taxation we give to certain areas is part of the budget process. … We do that every year," said Councilman John Chapman. He added: "When we look at where most of our revenue comes from now, it's borne [by] our homeowners. How do we bring others to the table? … I think these proposals do that."
"I don't know what the answer is, but I'd sure like to see us move forward in a bigger way," said Councilwoman Redella Pepper.