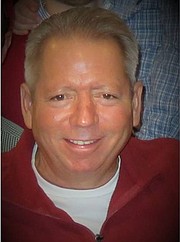 Jeffrey Lee Yates, a local businessman, died Feb. 22, 2018 at his home in Alexandria following a battle with cancer. He was 63.
Yates was born Nov. 2, 1954, at Maxwell Air Force Base in Montgomery, Ala., to parents John Godfrey, a Naval officer, and Lena Mary Yates.
He graduated from Oxon Hill High School in 1972 and continued his education at the University of Maryland where he earned a degree in mechanical engineering in 1976. He went on to work for Seagram's Distillery in Baltimore and then became an internal combustion engine patent examiner at the U.S. Patent and Trademark Office in Crystal City.
While growing up, Yates was involved in the family automotive business, working many hours at Yates Gulf Service at 834 N. Washington St. His love for the family business and the automotive industry eventually inspired him to start his own business, Yates Auto Parts and Hardware, in 1977.
Yates shared his love for the auto parts industry with his brother Jim, and eventually they grew Yates Auto Parts into a regional conglomerate. Following this success, Yates left the auto parts industry to pursue his passion for real estate.
Yates embraced the real estate market and acquired many successful properties as owner-operator in the Alexandria area. He was known for his friendly conversations with customers and friends while working at some of his favorite businesses, especially Yates Car Wash and Detail Center on Henry Street and Table Talk Restaurant on Duke Street. He made it his goals to both preserve iconic Alexandria properties, such as the Old Town Theater, and mentor dozens of decades-long employees to pursue their own successes.
Other properties acquired by Yates Enterprises include Generous George's Pizza Palace and Hunting Creek steak house.
Yates is survived by his fiancée, Connie Sofia, who was his partner in both life and business. He is also survived by his three children, Jacquelyn Marie Nevin of Darien, Conn., Jeffrey Lee Yates, Jr. of Alexandria, and Jessica Nicolina Yates of Delray Beach, Fla.; their mother, Mary Vanderberry Yates also of Delray Beach, Fla.; and three grandchildren: Grace, William and Olivia.
He is also survived by brothers John Godfrey Yates, Jr. of Waterford, Va., James Nicholas Yates of Occoquan, Jason Allan Yates of Fairfax Station; sister-in-law Virginia White Yates of Potomac Falls, Va.; and many nephews and nieces.
He is preceded in death by his brother Joseph Harding Yates and his parents John Godfrey and Lena Mary Yates.
Visitation will take place at Everly-Wheatley Funeral Home, 1500 West Braddock Road, on Friday, March 2 from 2-4 p.m. and 6-8 p.m. Funeral services will be held at the same location on Saturday, March 3 at 11 a.m. Interment at Ivy Hill Cemetery will be held at a later date.
In lieu of flowers, memorial contributions may be made to support the Bladder Cancer Research Fund at Johns Hopkins University Hospital.