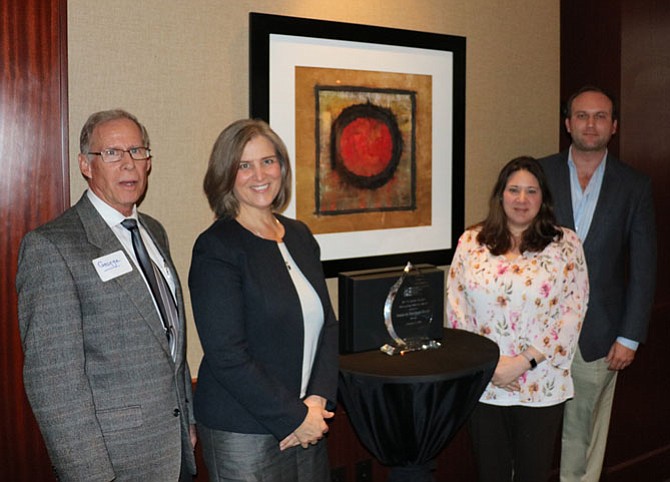 McLean's Top Volunteers
The McLean Community Center (MCC) has awarded its top honor for volunteers, the 2017 H. Gordon Randall Outstanding Volunteer Service Award, to Melanie Sanders-Smith. The award was presented at the Center's annual Volunteer Appreciation Luncheon on Sunday, Feb. 25, at Seasons 52 Restaurant at Tysons Corner Center. MCC's Ingleside Avenue facility is under renovation. Temporary administrative offices are located at 6631 Old Dominion Dr.
A McLean tax district resident, Sanders-Smith works as an independent consultant in international development. She was nominated for the award by MCC Special Events Manager Catherine Nesbitt. According to Nesbitt, over the last two years Sanders-Smith has volunteered for the Center and has provided more than 20 volunteers at a time for various MCC events from among the missionaries serving for the Church of Jesus Christ of Latter-day Saints (LDS) in McLean. These volunteers have helped at many of the events the Center produces, including the McLean Holiday Crafts Show, the Spring and Fall Community Garage Sales, McLean Day and the Independence Day Celebration.
"Melanie and her LDS youth group have worked all day in the blaring heat and in the cold rain improving the quality of our events and making our events better-staffed," said Nesbitt. "She has worked with her LDS youth group, passing on valuable knowledge and training to ensure the positions they fill are performed at their highest capacity, displaying stellar volunteerism and, in turn, enhancing MCC programs and initiatives."
In presenting the award, MCC Executive Director George Sachs thanked all the Center's volunteers for their continued support. Of Sanders-Smith he said, "Melanie's volunteer efforts have made MCC programs better, which ultimately makes our community a better place to live."
For more information, call the Center at 703-790-0123, TTY: 711, or visit www.mcleancenter.org.