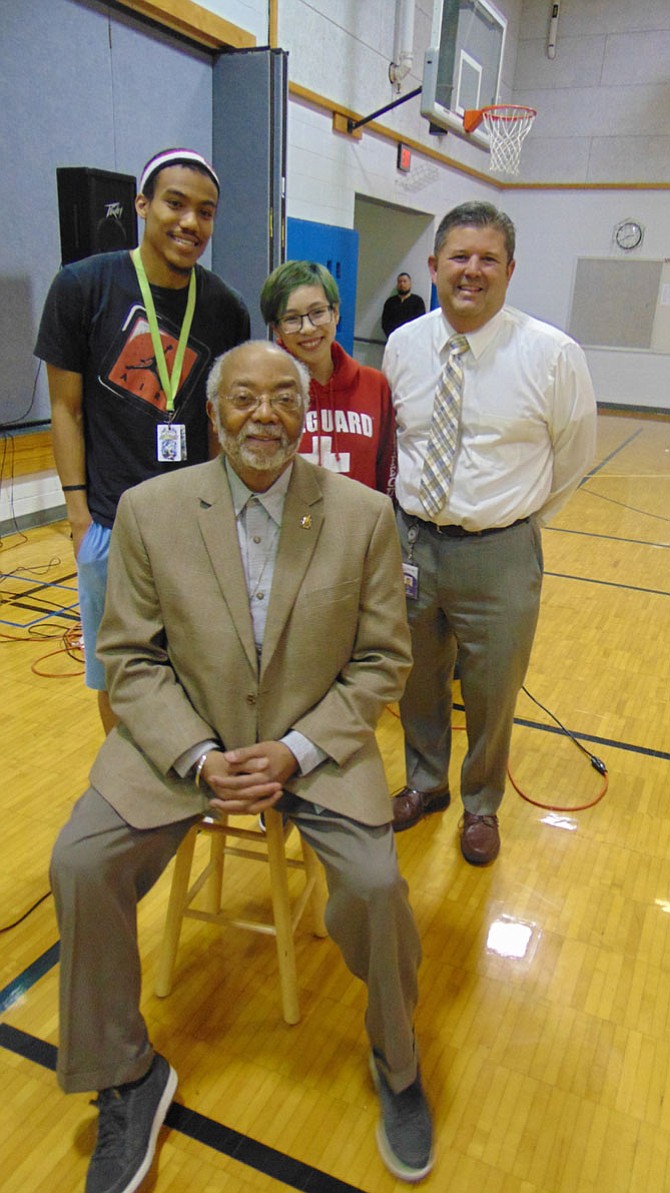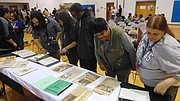 Rohulamin Quander, Esq., 74, an author of three books and a descendant of slaves whose land occupied 88 acres where the present day Quander Road School is located, gave a talk to students there on Friday, Feb. 23, about his African-American family's deep roots. The retired senior administrative law judge started his presentation with a 12-minute video that highlighted the Quander story dating back to the Amkwandoh Fanti Tribe in in Ghana, West Africa.
As director of Quander Historical Society, he said that the Quander family is one of the oldest African-American families documented in history, with the name dating back to the 1600s. Henry Quando's descendants are where the family came from. Today, the Quanders went from being slaves and farmers to teachers, principals, news anchors, judges, and authors. They have a rich family heritage, helping to preserve the history at Mount Vernon Estate with a memorial to slaves, and holding family reunions in the area since 1926.
The family's documented presence shows the story of two brothers who got separated when they were brought over from Barbados to Charles County, Md. One was freed in 1684; the other stayed in servitude. The children found each other and vowed never to be separated. Fast forward to 1691 and court records show Henry Quando in the Charles County seat registering his cattle. He obtained a 99-year lease to farmland there. In 1741, records show another Henry Quando in court suing somebody which ruled in his favor.
In 1758, George Washington came to Mount Vernon, and brought Martha with him in 1759. He went over to the Maryland side to buy slaves (three enslaved people for the price of two). Among those he brought over that were listed in the 1760 census was Suckey Bay, mother of Nancy Carter who would be Nancy Quander. Both were slaves on the grounds of Mount Vernon Estate.
But later Washington decided the institution of permanent in servitude needed to be done away with. He reached out to George Mason, James Madison, and Thomas Jefferson and said he would like to propose that they free their enslaved negroes. They said no, but Washington freed those in his servitude, which he wrote in his will. But he could only free those who were his own property.
When Washington died in 1799, he had 123 slaves in his ownership. So, he freed them but said they could not leave until Martha died. Martha decided on the anniversary of George's death, that she would free them in 1801, and she did. She released her slaves and they went back to various Custis properties. George's slaves were allowed to leave. The children who went back to Custis family ended up at Robert E. Lee's residence. So, the children ended up at the Custis-Lee Mansion.
Now freed, Nancy Carter married Charles Quander and by 1810-1820, they had three children; thus, began the presence of the Quander family now coming over to the Virginia side. Over the years, a different Charles Henry Quander purchased the 88 acres which became a Quander dairy farm where the Quander Road School sits today. The land was then subdivided and broken up; the family still has some of the land, but not much.
Regarding Quander's talk, Mount Vernon School Board Member Karen Corbett Sanders said: "Quander is such an important school because of its historic relevance in Fairfax County as being a school built as a desegregated elementary school and one that embraced the diversity that is what Mount Vernon is all about. Having Mr. Quander come and share the history of his family, which is actually Virginia's history, is so important and we we're just thrilled that he took the time to come and talk to the students today."