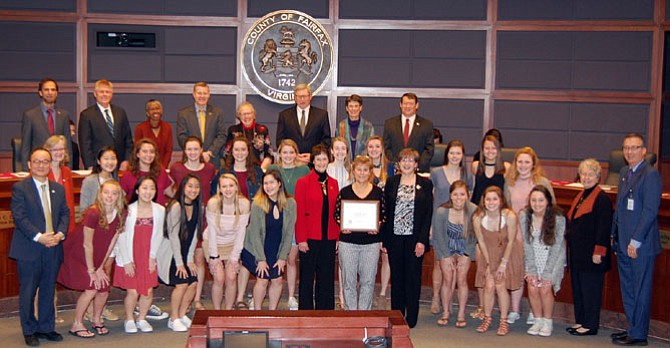 Westfield Field Hockey Roster
Isabel Mitolo, senior; Kylie Weatherholtz, junior; Mackenzie Karl, senior; Hannah Huling, junior; Payton Moore, senior; Katie Liskey, junior; Olivia Gary, junior; Casey Cho, junior; Adison Moore, sophomore; Jordan Krauss, freshman; Molly O'Brien, freshman; Delaney Kennedy, sophomore; Delaney Golian, senior; Carly Duncan, senior; Nicki McNamara, senior; Carly Gaito, junior; Mary Craig, junior; Alex Horgan, manager, senior; Aaron Opoku, manager, senior; and Christian Barahona, manager, senior.
The field hockey and football teams at Westfield High School not only won Virginia state championships this past fall, they did so perfectly, both completing undefeated seasons.
The field hockey team won 24 consecutive games during the fall 2017 season, concluding with a state 6A championship over defending champion First Colonial 2-1 at the Sportsplex National Training Center in Virginia Beach on Saturday, Nov. 11, 2017.
Goalie Payton Moore and the team gave up only seven goals all season before defeating defending champion First Colonial, 2-1, for the state championship. The team shutout 18 opponents during the season.
WESTFIELD'S FOOTBALL TEAM captured its third consecutive state championship by defeating Oscar Smith 28-21 at Hampton University Armstrong Stadium on Sunday, Dec. 11, 2017.
The team finished this past season 15-0 and has defeated Oscar Smith three consecutive years for their state championships.
In 2015, Westfield defeated Oscar Smith in Charlottesville. "I got to be on the field three years ago to watch the game and there were three overtimes. And last year … there were two overtimes," said Sully Supervisor Kathy Smith. "This year the game was completed in regulation."
The Board of Supervisors honored both teams at its meeting on Tuesday, Feb. 20.
"The community is really very proud and honored to have you here. No pressure, here, but this is getting to be a habit," Smith said to the football team.
And after announcing that the field hockey team gave up only seven goals in 24 games this season, Smith said, "That's pretty incredible, absolutely."
BOTH COACHES stood with their teams.
Starr Karl, Westfield's field hockey coach, said, "Our team worked feverishly to prepare for the state tournament by buying into the team concept. Each player bought into their role on their team and each day came into practice to make themself better players."
The field hockey team is the first girls team at Westfield to win two state titles, said Starr. The team became just the sixth Northern Virginia champion in the 41 year history of the Virginia state tournament, she said.
The Westfield field hockey team also won the state championship in 2013.
"It's been an honor to represent Westfield, the 6A Northern Region, and most importantly, Fairfax County, during this amazing run. Thank you," said Karl.
According to Westfield High School's webpage, "Coach Starr Karl finished her coaching career going out on top."
Football coach Kyle Simmons acknowledged support from the community and the administration and athletics department. The school has won five state football championships.
"We're proud to have brought back the state championship to Fairfax County again. That trophy is sitting in our trophy case and we're very proud of that," said Simmons. "Of the five football state championships we have earned at Westfield, this may have been the most unlikely team to have brought that trophy home. It was due to their faith in the coaching staff, the buy-in that they had and the culture that is established to play for one another."
New Superintendent Scott Brabrand, School Board chair Jane Strauss and other school board members took part in the celebration.
"We are proud of you," said Board of Supervisors Chairman Sharon Bulova.