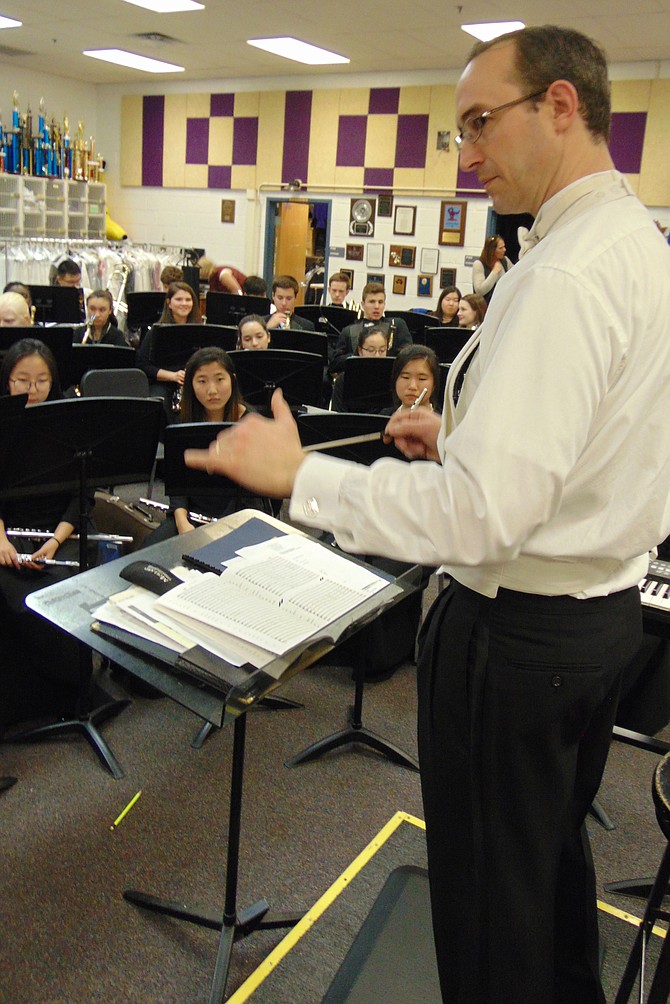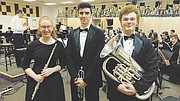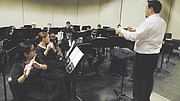 Under the direction of Mike Luley, the Lake Braddock Secondary School Symphonic Band from Burke has been awarded the Sudler Flag of Honor by the John Philip Sousa Foundation – a national award.
"I'm very proud of the students and thankful to the support system of our administration and our instructional staff that help us train students and give us opportunities," said Luley, 38, of Springfield, who is the Director of Bands. The band program includes almost 200 students in four concert bands: Symphonic, Concert 1, 2, and 3; one jazz band and a marching band.
Luley, a graduate of West Virginia University and the University of Southern Mississippi for graduate school, added: "For students, it demonstrates their hard work and their commitment of excellence. It took many facets to make this happen, from the marching bands, concert bands, solo and ensemble, District band and other national events that we performed at."
The application process is extensive, requiring seven years of documentation, recordings, and letters of recommendation, as well as success in adjudicated performances, state and national events and outstanding professional commitment by the conductor. Lake Braddock is one of only two band programs in the U.S. chosen to receive the concert band award this year. The other school was McLean High School.
LULEY said they submitted recordings of their symphonic bands performing as well as a list of master works they've been playing. Included in that were letters of recommendation from college professors; assessment rating sheets from concert band assessments – like the SOLs; as well as programs of significant performances. "The foundation listened (to recordings) and decided if it was of the quality they wanted. If it passed through that, there was a second round," said Luley.
They also included how many students were participating in District and All-State Bands to show that students are performing at those levels; including soloists, small groups, and marching band. "It's demonstrating there's continuity in the program and the students have been excelling," said Luley.
This is the second time Lake Braddock received the award; the other time was in 1994 when director Roy Holder ran the program. "For us, it's significant because it's being recognized at the national level by esteemed band directors. The committee is by previous award winners, college professors, members of the John Philip Sousa Foundation and directors of the American Band Masters Association," he said.
Lake Braddock's Middle School Band, under the direction of Lou Bean, also won the Sudler Cup Award in the year 2000, which is equivalent to the same award at the middle school level. "We're very appreciative of the elementary and middle school band directors and private teachers who work with the students," said Luley.
BAND PRESIDENT Laura String, 17, of Burke, is a senior who plays flute. She said: "It's a great honor for not just us but everyone who's come before us and worked with Mr. Luley and all of the students that have worked so hard to help us achieve this goal. And we're just looking forward to continuing the work."
Michael Baker, 17, of Burke, a junior who plays the euphonium in the band, said he feels pretty good about winning the award. "It's been a lot of work along the road for everyone, not just for the group here now, but seven years back," he said. He plans to study music education in college and join a military band, possibly the U.S. Air Force Band.
William Kelley, 17, of Burke, is a junior who plays the trumpet. "It's an honor because not only is it just our band but it's all of the bands that have come before us, and just being able to continue with the legacy that they've left us with," he said. He is undecided about college but wants to continue playing trumpet.
The Sudler Flag of Honor will be awarded to Lake Braddock during a concert and ceremony on May 31, 2018.