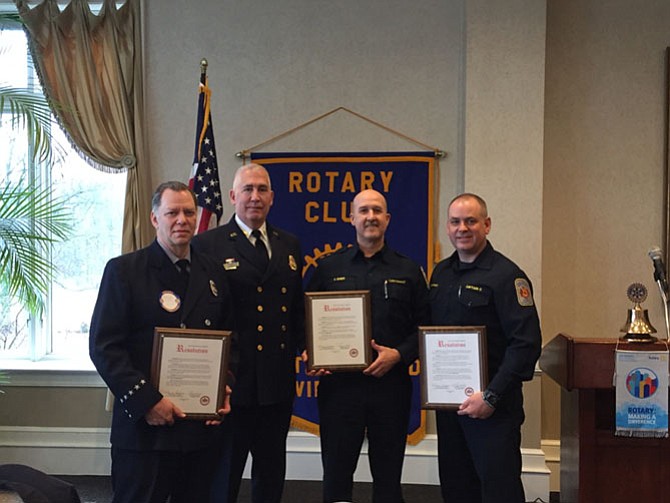 Three Fairfax County Fire and Rescue Department members—Captain II Mark Schroeder (EMS407, C-Shift), Lieutenant David Bender (Station 41, Crosspointe, B-Shift) and Master Technician David May (Station 41, A-Shift) were honored by the West Springfield Rotary Club with their Service Above Self Award.
Each individual was nominated by a co-worker who felt they demonstrated a commitment to helping others in the department as well as the public. Family and co-workers were on hand to help honor these individuals.

Lieutenant David Bender has been a member of the Fairfax County Fire and Rescue Department (FCFRD) for more than 24 years. Part of his nomination letter indicated that he always takes the lead in training the shift, develops daily training plans and leads by example. Whenever there is a new piece of equipment, Lieutenant Bender is the first to learn how to use it. He is usually one of the first to dress in complete gear and run through a training scenario to teach others proper technique.

Master Technician (MTech) David May has over 34 years of service in the FCFRD. A small part of his nomination letter indicated that MTech May took on the task of assisting all three shifts in identifying new access points in Fountainhead Park and the Bull Run/Occoquan trail that will aid in FCFRD's timely response to some of the most remote areas of the County. He also took an additional step of working with the mountain bike club that maintains the trails at Fountainhead to create more accessible trails to aid FCFRD in helping injured mountain bikers in the park.
Captain II Mark Schroeder has served with the FCFRD for the past 24 years. As an Emergency Medical Services (EMS) Supervisor, he is responsible for EMS operations of six fire and rescue stations to ensure quality assurance of all EMS units, proficiency of every field member, and oversight on significant emergency medical calls. He is also a member of the department's elite Virginia Task Force One (VA-TF1). Within VA-TF1 Captain Schroeder is a canine handler and was part of last year's deployment to the US Virgin Islands for Hurricanes Irma, Jose, and Maria.