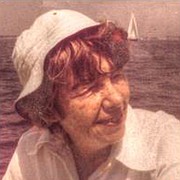 Alice Slavin Krafft died Feb. 23, 2018, at her home in Alexandria, three days shy of her 94th birthday. Alice was a native of Hyannis, Mass., on Cape Cod. She came from a long line of Cape Codders, the first child of Richard Franklin Slavin of Chatham and Amy Childs Slavin of Centerville. Alice married Joseph M. Krafft of Alexandria in 1948 at St. Francis Xavier Catholic Church in Hyannis, and they were married for 69 years, up until his death in April 2017. Alice was preceded in death by brothers Daniel, Richard, Gerald and Paul Slavin and sister Claire Suddy Gagnon, and she is survived by sister Anne Kelly of Pembroke, Mass., and sister-in-law Margy Slavin of Glendale, Calif. Also surviving are her eight children, Kathy K. (John) Long of Houston; Fred (Martha); Louise and Amy Krafft of Alexandria; Henry of Sterling, Va.; Matthew (Jean) of Bethesda, Md.; Charles (Cairn) of Owings, Md.; and Rebecca (Jamie Bartalon) Krafft of Arlington, Va.; and 13 grandchildren and five great-grandchildren.
As a girl, Alice played field hockey, basketball, golf and tennis, and she attended USO dances in Hyannis with her sister Claire. Her competitive spirit lasted her whole life long, and was seen most recently at a closely contested croquet match at a family Thanksgiving. She graduated first in the Barnstable High School class of 1941 and was a member of the Massachusetts State Champion debating team. She was awarded scholarships by the Cape Cod Association and the Diocese of Fall River, Mass. She graduated from Seton Hill College in Greensburg, Pa., did research at the famed Woods Hole Oceanographic Institute, and received a master of science in bacteriology from Brown University.
Alice's paternal grandparents came to the United States during Ireland's Great Potato Famine, but on her mother's side she was a direct descendant of Thomas and Joseph Rogers, who sailed on the Mayflower and signed the Mayflower Compact. After completing her education she moved to Washington, D.C., to work for the U.S. Food and Drug Administration. After leaving the FDA and getting her eight children started in school, Alice re-entered the workforce as a middle school science teacher. She taught for over 25 years, first at Blessed Sacrament and St. Rita's schools in Alexandria, and later at Williamsburg, Swanson and Thomas Jefferson middle schools in Arlington. She was a leader in Cub Scouts, Girl Scouts and girls' basketball. She raced sailboats with her husband and accompanied him in their Model A Fords to antique car events around the country. Alice and Joe were founding members of Alexandrian's Involved Ecumenically (ALIVE!) and she was their Saturday furniture donation coordinator for more than 30 years. Alice was the first to know when the economy was failing because the requests for food from needy families would increase.
A viewing was held on Friday, March 9 at Everly Wheatley Funeral Home, 1500 West Braddock Road in Alexandria. A funeral mass was held at Blessed Sacrament Catholic Church on Saturday, March 10. Donations in Alice's memory may be made to ALIVE, 2723 King Street, Alexandria VA 22302, www.alive-inc.org/donations.htm, or to Capital Caring, 2900 Telestar Court, Falls Church VA 22042, www.capitalcaring.org/join-us/donate/.