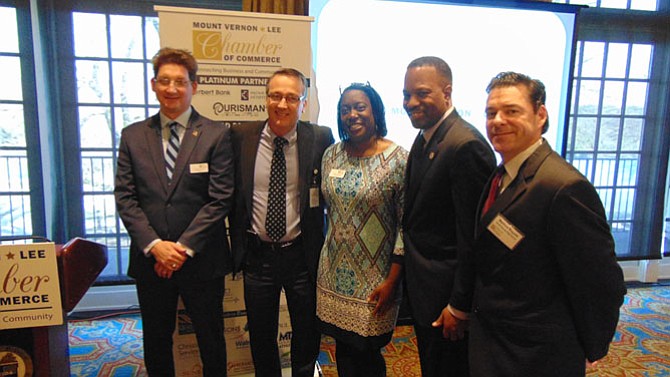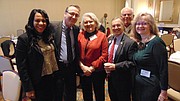 Fairfax County Schools Superintendent Dr. Scott Brabrand and three local principals explained the interconnections between business and education at the Mount Vernon-Lee Chamber of Commerce's March 8 Business Breakfast at the Belle Haven Country Club.
Following a welcome from Chamber President Sonja Caison, who runs The Cleaning Authority, she introduced some strategic partners, including Cox Business Vice President Kathryn Falk, and some new chamber members. Besides Brabrand, the three principals who spoke were Dr. Tangy Millard, principal of West Potomac; Dr. Matt Ragone, principal of South County; and Dr. Anthony Terrell, principal of Mount Vernon high schools.
"First of all, FCPS is open for business. We are here to forge new and deeper relationships with the business community," said Brabrand, a former classroom volunteer, social studies teacher, and principal in Fairfax County schools. "Good schools are good for business. And good business conditions are also good for schools. We need to continue to attract and develop and enhance the business climate here in Fairfax County for a great quality of life, for more opportunity for our kids as they graduate and for our whole community to be successful."
During his talk, he touched on three "E's" and a "J" — Excellence, Equity, Effectiveness and Joy. "My focus is about making Fairfax County Public Schools the premiere school system in this country and a beacon school system really in the world," he said.
Millard, who for seven months has been overseeing 2,700 students at West Potomac, said she is looking forward to partnering with the local business community. "As business owners, you know what you need coming out of high school and college are students who can collaborate; students who can problem-solve; high-order thinking skills; innovation; creation — so, we're moving into this next layer of learning," she said. "Starting in 2020, our high schools are looking to be one-to-one across the board, and that means every student will be given a laptop that they will use as their tool for school learning throughout the school year, and our school district will be supporting that."
In addressing a school-business partnership, she added: "We will need the level of support from the learning side where you guys (local businesses) bring real-world experiences to our students — giving them opportunities to hear from you, coming as visitors and speaking about what you do every day as business owners, as well as what skills are necessary to do the work that you do, and also giving our students the opportunity to intern with you."
Ragone, who was a former principal at Langley High and now at South County since late 2014, added: "One of the projects we have is a Military Connected Youth Process Action Team. I'm working with the student services department, and our goal is to make sure the community knows and has the information to support military-connected youth as they transition in and out of Fairfax County," he said. "Fairfax County does a tremendous amount for these kids and these families, but not everybody knows about it. So, our goal is to get the word out on how to welcome kids in and help them transition out."
He continued: "Our big initiative also is to become the best academic institution in South County, in the state of Virginia. Our AP scores are going up; our AP enrollment is going up. We're trying to close the Excellence Gap. We're seeing good progress in that. We're seeing more underprivileged and minority students availing themselves in opportunities in honors and AP classes."
Terrell, who oversees 2,100 students at Mount Vernon High School, added: "We are an International Baccalaureate School, which means our students are judged by an international standard and we're very proud of that. We are a comprehensive high school; we have something for every student who comes in our doors," he said. "We sent two kids to Harvard last year and everything in between that, as well as getting students ready for careers. I know that's very important to the people here."
He added: "We partner with West Potomac High School and the Academies so students leave with licenses and certifications and real-world applications that they can use right after graduation, so we're very proud of that."