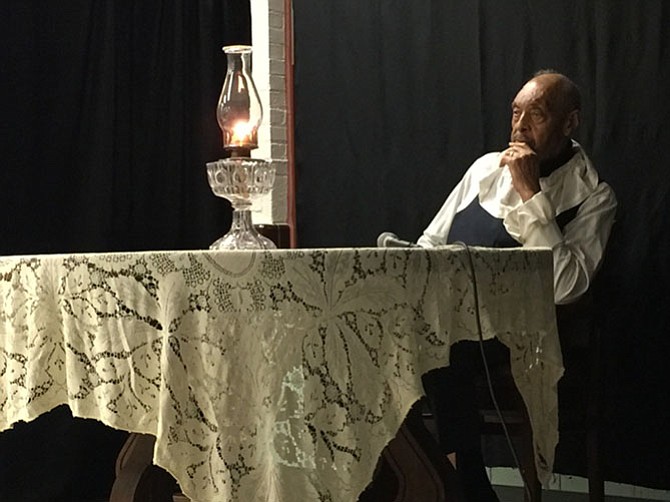 Every few years, West Ford, who was once enslaved on Mount Vernon plantation and later founded the Gum Springs Community, comes back to tell his story.
Local writer and actor Pearson Parker, dressed in period costume and sitting at a table lit by an oil lamp, narrated the story of West Ford at a dinner theater last month at Gum Springs Community Center, sponsored by the Gum Springs Historical Society.
The audience listed to Ford, represented as in his 70s, describe his concerns as the Civil War approached. "Because of certain tumultuous events, I told my family not to stray too far from home," he said. "I am known here and some Quakers will try to protect us, but I worry about what is happening." Following the 1831 Nat Turner rebellion in Virginia, Ford had to take his family to Alexandria to be registered (as reported in the Alexandria Gazette). The 1857 Dred Scott Supreme Court decision threatened the freedom of even free blacks, who were often captured and sold, and the 1859 Harpers Ferry raid by John Brown resulted in further repression of blacks.
Ford spoke from the perspective of Feb. 27, 1861 when seven southern states, but not yet Virginia, had seceded from the Union, and the new president, Abraham Lincoln, had just arrived in Washington under threat of assassination.
"I fear for millions in the South all types of freedoms would be lost if the Southern state secede," Ford said.
Ford was born in 1784 or 1785 on the Bushfield Plantation in Westmoreland County, Va., to Venus, a mulatto slave woman owned by George Washington's brother, John Augustine Washington and his wife, Hannah. Hannah's will decreed that "the lad called West" was to be set free at the age of 21 and he was. However, following the death of George Washington in 1799, Ford was brought to Mount Vernon Plantation by Bushrod Washington, a son of John Augustine and Hannah. When Bushrod died in 1829, he willed 160 acres of land adjacent to Mount Vernon to West Ford, who continued to live on the Mount Vernon estate.
Pearson described Ford's life at Mount Vernon as a paid tradesman who was taught to read and write and who married a free black woman and had four children, noting that "we were even given a wedding in 1812 at the First Presbyterian Church of Alexandria." Ford sold the land he received from Bushrod and in 1833 bought 214 acres he had long wanted, and area called Gum Springs on Little Hunting Creek, now near Route 1 and Fordson Road. While working at Mount Vernon, he also started working the land at Gum Springs and saving to build a house. By the time he moved his family there, some of his children were grown and able to help with the work.
As he pondered the possibility of war, Ford said he didn't know if the family would be able to remain in control of the property, "but I can only hope that as it is passed along it will retain its name."
Ford died in 1863, but as was read in an epilogue to Pearson's performance, after the war the community grew to include a church (Bethlehem Baptist Church), and a school, and has continued to grow, with several descendants of Ford remaining in the area. They formed the Gum Springs Historical Society in 1984.