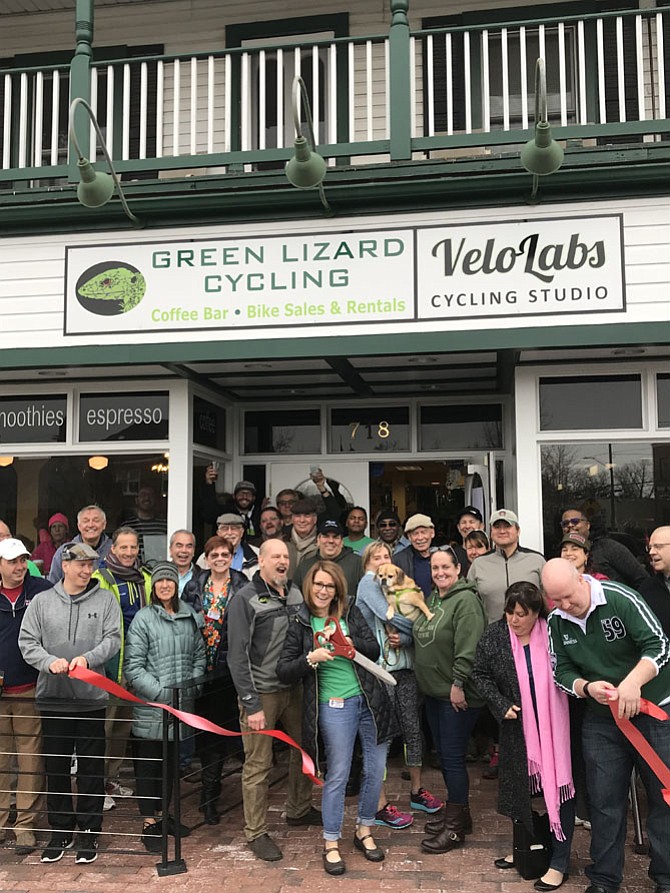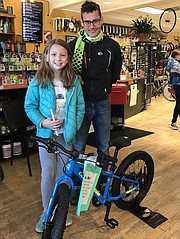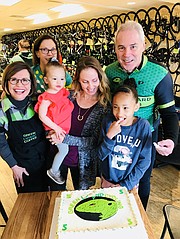 Green Lizard Cycling, LLC in downtown Herndon celebrated its fifth anniversary with a three-day party, Friday, March 16-Sunday, March 18. Events included Friday's top-notch cycling seminars, a Saturday ribbon cutting by Mayor of Herndon Lisa C. Merkel to mark the signing of a new five-year lease and, on Sunday, a free bike raffle.
Green Lizard Cycling is not your ordinary bike shop. First, it is located just feet from the W&OD Trail, 45-mile paved cycling/running trail between Purcellville, Va. to the west and Shirlington, Va. to the east on outskirts of the District of Columbia. Second, it offers bikes of all kinds — road, mountain, cyclocross, urban, fitness and more. Parts, accessories, clothing, shoes and helmets are fully stocked. Bike and equipment rentals are available on an hourly, daily, or weekly basis.
There is also the Green Lizard Coffee Shop to keep riders, and non-cycling patrons fueled at all times. The store serves Kaladi Coffee and locally sourced baked goods, soups, and sandwiches from other businesses in Herndon. Since biking and beer is often a perfect match, the Lizard has a regular selection of Pils, Goses, Belgians, Wheat beers, and even local beers.
Patrons of the "Lizard," as it is affectionately called by nearly everyone after they walk through its doors for the first time, are drawn to return because the owners, Dave and Beth Meyer, live their philosophy and business model. The Meyers' vision for the "Lizard" when they first opened in March of 2013 and now remains the same as written on their website: "To treat everyone with respect, treat people as we would like to be treated, be part of the local community, and add value to everything you do. We feel we have created an environment that everyone feels welcome, whether you're stopping by for a cup of coffee, looking for a new bike, needing some sort of an accessory or service, or just wanting to stop in and say hello."
The store remained packed the entire weekend with well-wishers and friends stopping by to congratulate the Meyers. Among the many visitors was Cindy Hajost of Great Falls. "Green Lizard is my second home. I love the community they have created," Hajost said.
Mark Schultz of Reston said, "Love the bikes, beer, and coffee."
Erin Schultz added: "We always run into someone we know. Our neighborhood stop."
Lindsay Withers was there with her daughter Tori. 2. "This place is what makes Herndon, Herndon," Withers said.
"I love The Lizard because it's like Cheers. Everyone knows your name, and it's a fun place to hang out," said Celeste Peterson of Centreville.
Anne Pastorkovich of Fairfax added, "Green Lizard supports the community and is a great bike shop. Congratulations on five years."
Michael Bradley of Herndon summed it up: "The Green Lizard is one of the cornerstones of Herndon's community. As a new resident in 2016, Beth, Dave and crew welcomed me in and helped me know everyone."