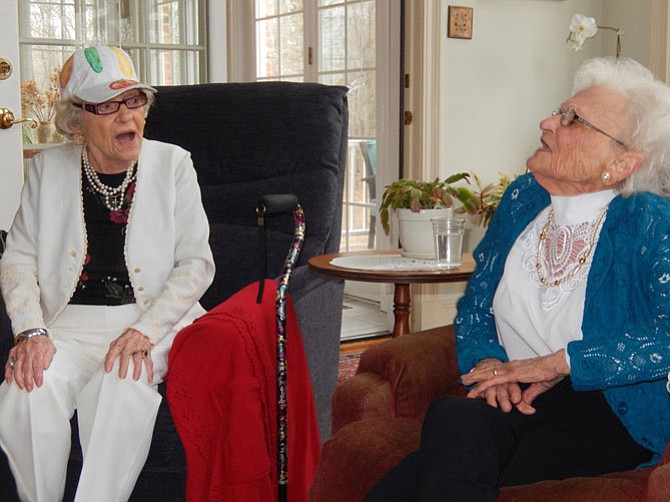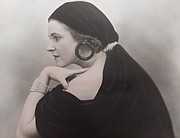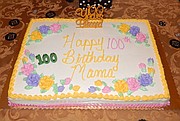 Mildred DeBell's Poem for her Cousin
Mildred DeBell wrote this poem for her cousin, Iris Vann, who turned 100 last October:
Here we are in this old mill back where we shared our youth in old Fisher's Hill.
At five, we sang forty was something to fear; then Father Time traveled year after year.
We chose our partners and pursued our life's trends with the blessings of family and so many friends.
We shared in their joys, their sorrows and grief; we did what we could for others' relief.
And then, everything started slipping away; our bodies were changing, our hair turned to gray.
We watched the world change and watched our families grow; we watched them come and watched them go.
"You're not the same anymore," we are told. Let's face it, old girl, we are now getting old.
A new century arrived, yet we tried to hang on. Years have gone by; where have they gone?
The last ten years were the hardest. Only memories remain of all the things we used to do; nothing seems the same.
As we count our many blessings and we look up to the sky and thank our God for 100 years, you made it! God willing, so will I!
Our thanks to Him for helping us through joys and through our tears. And for loving friends and families who helped us through the years.
So happy birthday, Iris. May we pray each day that we have left be free from pain and sin, so when we get to the pearly gates, St. Pete will let us in.
— Mildred Keller DeBell
Mildred DeBell is the first to admit she never expected to someday be 100. And yet, last Saturday, March 17, friends and family gathered to celebrate that very milestone with her and were delighted to have the opportunity.
"She kept telling us she didn't think she'd make it," said son John DeBell, who hosted the event for some 100 people in the home he and his wife Connie share in Catharpin. But, he joked, "We told her we had the party date picked out and she had to make it."
Raised in Fishers Hill, near Winchester, Mildred DeBell graduated from high school in Strasburg in 1934. Four years later, she moved to Centreville to teach first grade in the old, wooden, Centreville Elementary School. She was there two years, then taught fourth grade at Bailey's Crossroads, returning to Centreville Elementary to teach seventh-grade part time during WWII.
Eventually, she met and married Stuart DeBell and had three children, John, Stephen and Stuart Jr. The family now includes nine grandchildren and 13 great-grandchildren, with Mildred's first great-great-grandchild due in October.
In their younger years, Mildred and her husband ran a 500-acre dairy farm in Centreville called Sunnyside. "But we practically had no help because everyone was away at war," she said. "We had to work really hard. And in the late 1940s-early '50s, Stuart opened an accounting business in Centreville because we needed the extra money. Later, as the dairy business changed, we sold the farm."
Mildred worked in their accounting company, too, and the couple added insurance to their offerings. Their business was where the Alto Plaza restaurant is now, along Route 29. "A drugstore and hardware store were there, too," she said. "Centreville was a busy place." And for entertainment, she and Stuart and about eight other couples would have parties at each other's homes. "We had the best time," said Mildred.
An avid gardener, in 1950, Mildred was one of the charter members of the Rocky Run Garden Club, along with Ellanor C. Lawrence, in whose name the Centreville park was preserved. And from 1952 on, Stuart served 16 years on Fairfax County's Board of Supervisors, including two terms as chairman.
In addition, until 1995, the DeBell family ran a Centreville landmark, the Newgate Inn (in the Newgate Shopping Center), for 26 years. Meanwhile, Mildred became a noted, Centreville historian and valued member of the community. In 2003, she was chosen the Sully District's honorary Lady Fairfax; and in October 2017, she was named Centreville Day's Citizen of the Year and Honored Community Historian.
However, Mildred always remained a spunky, fun-loving, down-to-earth person, affectionately called "Mama" by everyone in her family. She still enjoys gardening and writing poetry — among other things. "I just quit smoking in November," she said on Saturday. "And I still sneak a cigarette, every once in a while."
"I met her when I was 14," said Connie. "She was a fireball back then and she still is." Connie then led the party guests in a toast to her mother-in-law who, she said, "still has an occasional drink."
Mildred's favorite TV network is C-Span. "I still love politics, our country and our history," she said. She attributes her longevity to always keeping busy and moving, but good genes have helped, too. In fact, her first cousin, Iris Vann — who turned 100 in October — was also at Mildred's party, and the two of them sang a song together that they first sang as 5-year-olds about what it would be like to grow up.
Mildred's actual birthday was March 16 and, while delighted to celebrate her centennial with family and friends, she said modestly, "It's absolutely wonderful, but I don't deserve all this attention. When I woke up this morning, I wanted to roll over and go back to sleep. But I couldn't because I had to get ready for the party. I never thought I'd live this long — I just couldn't imagine 100 years."
Son John said his mother was the youngest of five girls who lived into their 80s and 90s, and their father lived to age 96. "Family and church were important to her," he said. "She was a stern, but loving, mom. She let us do our own thing, but counseled us well and was always there for us."
Son Stuart Jr., ("Snooky"), said his mother's faith always saw her through whatever came her way. And that included the deaths of her husband and son Stephen. "She told us to believe in God and everything else would take care of itself," he said. "She's always been there when we needed her and gave me good advice, and I have nothing but admiration for her. Everybody in our family stays in touch with her, and we all contributed to putting on this party."
A member of St. John's Episcopal Church in Centreville since 1938, Mildred used to direct its choir and play the organ there. And on Saturday, its former leader, the Rev. Howard Kempsell, was at her party, as was current leader, the Rev. Carol Hancock.
"St. John's loves Mildred," said Hancock. Addressing her directly, she said, "You are in our hearts and in our prayers always. You and your family helped get St. John's to where it is now; thank you."
Among the partygoers was Mildred's grandson (Snooky's son), Paul DeBell, 33, who flew here from his home in Durango, Colo., for this event. "I've always been close to Mama," he said. "She's really had a huge impact and a positive influence on all our lives. She's always been able to help me see the bigger picture. Every time I've been dealing with something — a loss or a difficult circumstance — she'd help me take the longer view, and she told me, 'Stay on the sunny side, be kind and trust that everything will be OK.'"
He also loves talking to his grandmother about history and her own life story. For example, he said, "She told me what life was like on the farm in WWII, about the great Depression and growing up in the Shenandoah Valley with no electricity or running water. They had to dig big holes in the ground and put blocks of ice in them to keep their food fresh. She also has a deep appreciation for American culture and history; she's really an amazing resource for all of us."
Also there was GMU history professor Ted McCord, Mildred's first cousin, once removed, who's also in awe of her. "She's a legend in her own time," he said. "She smokes, she drinks and she's a hero to most of my friends because of that."
McCord's father used to be a physician and, when Mildred was in her 20s, she'd been out on a riverbank, not realizing it was covered with poison ivy – which spread all over her body. "She went to see my dad, and she'd wrapped herself up with bandages, head to toe, like an Egyptian mummy. She walked in to his office that way, and they both had a good laugh about it."
Then, a year ago, McCord introduced Mildred to his girlfriend. But instead of trying to impress her, Mildred told a story about how she'd been busy gardening and accidentally fell backward. She got stuck in a big flower pot, and there she stayed until rescued by a family member. But instead of getting angry, she just laughed.
So, said McCord, despite her age, Mildred is still going strong and bringing joy to everyone around her. "She has a remarkable mind, a great memory and an excellent sense of humor," he said. "And she can still spin a good story."