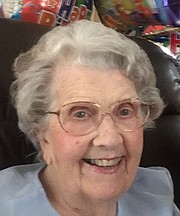 Edna Bounds, of Centreville, died peacefully at her home March 2, 2018 with her son and daughter-in-law by her side. She was 98.
Mrs. Bounds was born in Liverpool, England on Sept. 18, 1919.
After high school she worked in a munitions factory where bombs were made during WWII. Mrs. Bounds felt compelled to do her part in the war effort so she enlisted in the WAAF (Women's Auxiliary Air Force) in 1943 which was part of the Royal Air Force. This was a turning point in her life for she would end up in Paris after the war and meet Lt. John Arthur Bounds. They would wed three weeks later and she would begin her career as an army wife; they were married for 47 years. They were stationed in Nuremberg, Germany; Columbus, Ohio; Vicenza, Italy; Ft. Benning, Ga.; then eventually retiring from the Army and moving to England for a short period. They returned to the United States to Alexandria then later to Fairfax, Va.
Mrs. Bounds was a breast cancer survivor of 46 years and volunteered for the American Cancer Society as well as Meals on Wheels. Mrs. Bounds took pride in remaining a British citizen her entire life for her heart always remained in England. She loved gardening, always having gorgeous flower beds and enjoyed playing the organ. However, she was best known for being an amazing cook with her apple pies being everyone's favorite.
She is preceded in death by her husband Arthur and her brother Fred Phillips of Devon, England. She is survived by another brother Walter Phillips of Reading, England; her oldest friend Eva Lloyd-Jones of 80-plus years of Liverpool, England; daughter Barbara Brown of Arlington; son and daughter-in-law John and Crystal Bounds of Centreville; three grandsons Andrew Brown, Christopher Brown and John Bounds III and one granddaughter Laura Bounds. She was extremely proud of all her grandchildren with all three grandsons being Eagle Scouts and her granddaughter who is a registered nurse.
Funeral services are 3 p.m. Friday, March 23, at Centreville United Methodist Church located at 6400 Old Centreville Road with reception immediately following. Mrs. Bounds will be interred with LTC John Arthur Bounds at Arlington National Cemetery at a later date.
In lieu of flowers, the family asks that donations be made to SAGE – Student and Global Community Engagement at
http://sage-community.com/donate/ or The American Cancer Society at www.cancer.org.