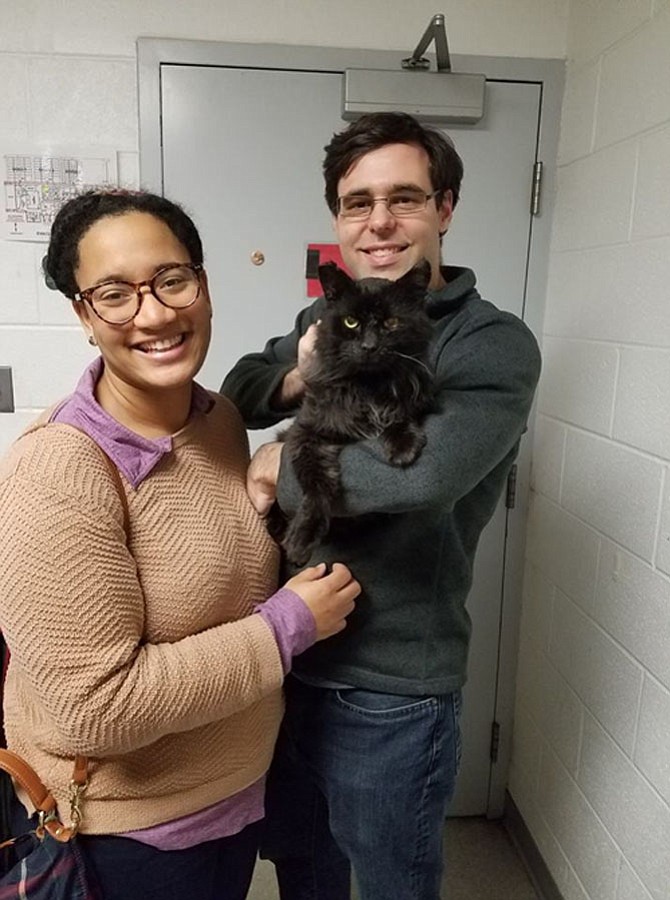 A black cat named Sneaks is one lucky feline.
Sneaks was 14 years old, suffering from untreated diabetes and FIV (a virus similar to HIV) when he was surrendered by his owner last April to the Animal Welfare League of Alexandria (AWLA). Like most cats who come to the shelter, Sneaks' first stop was "Healthy Hold," a quiet room where cats can acclimate to their new surroundings and the staff can get to know them, to get a better idea of their health and behavior.
Sneaks appeared emaciated, his inky coat dull and speckled with dandruff. Dr. Kaci Angelone, AWLA's staff veterinarian, ordered infusions of intravenous fluids and an array of food choices to stimulate his appetite. To keep on top of any changes in the cat's health, Dr. Angelone took Sneaks under her wing as an "office cat," a common practice at the AWLA for animals who need special attention.
At any given time, several cats partner as "office mates" with AWLA staffers. Most are cats seeking a little extra socialization before they are ready for adoption or in need of observation for medical or behavioral issues. Many eventually move on to the adoptions floor to meet the public, and others are made available for adoption directly from an office or a foster home.
Many staff members find hanging out with a feline makes the day go more quickly. "I love it," says Senior Manager of Community Programs Joanna Fortin, who has worked alongside about 25 coworker cats in her three years at the shelter. "My office isn't the same without one."

Under Dr. Angelone's care, Sneaks was fed a special food mix and slowly began to eat more and become more active. But treatment for diabetes, which he desperately needed, could not begin until he began to eat more consistently. It was time to seek a foster caregiver for Sneaks.
AWLA has a dedicated team of fosters who regularly take in animals in need of individualized care in a home setting. Some of these cats have significant medical or behavioral needs, some are senior cats and others are tiny kittens, too young for adoption and in need of round-the-clock care. AWLA's Community Outreach and Adoptions Coordinator Echo Keif found the perfect landing spot for Sneaks — the Springfield home of Janelle and Andrew Hartley.
The first order of business was to start Sneaks on insulin for his diabetes. A demonstration by Keif got them on their way, and soon the Hartleys had rearranged their schedules to administer insulin to the cat every 12 hours. Before his recuperation began, Sneaks showed some classic signs of diabetes, like constantly crying for water. His fosters had to cover the floors with "pee pads" because he wouldn't use the litter box, and they also had to keep Sneaks separate from their own cat because of Sneaks' FIV infection. "But even when he wasn't feeling good, he was still a snuggly, happy cat," Hartley recalled. "He wanted to sit in laps and be petted. He was always so sweet."
By September, after spending three months at the Hartley home and making regular visits to the AWLA veterinarian, Janelle Hartley had to leave the country for work travel. Sneaks was feeling much better, no longer begging for water, his diabetes apparently under control. AWLA found new foster care for him, and in November, one of the caregivers brought him in to the shelter to visit for a special Foster Adoption Showcase.
He was placed in a decorated pet stroller, and volunteer Jen Salan pushed him around to promote adoptions. Salan is one of 250 AWLA volunteers who help keep the shelter humming, doing everything from walking dogs to laundry to helping out with events. Some work to help socialize cats. Although the AWLA receives funding from the city for most basic services, programs like these — and the time and resources devoted to animals like Sneaks — are only possible through donations from the community.
A photograph of Sneaks in the stroller became a social media hit. Soon a picture of him on a website caught the eye of Christina Thompson of Laurel, Md., and her boyfriend, Dane Howard. Thompson's father had recently died, and she was interested in adding a companion animal to their family to ease the grieving process. With the AWLA's help, the couple set up a meeting with Sneaks at the shelter.
Sneaks' FIV and diabetes diagnoses didn't scare them a bit. All they could see was his now-beautiful, silky coat, goldish green eyes and outgoing personality. They adopted him, one of 690 cats adopted from AWLA in 2017. Seven months after a seriously ill Sneaks had arrived at the shelter, he had found health — and his home. The bright outcome for Sneaks was a direct result of AWLA's services carefully designed to help cats.
"When we heard he got adopted, we cried," said former Sneaks foster caregiver Janelle Hartley.
Sneaks has adjusted well. "Sneaks is really low-maintenance and takes his insulin very well," Thompson said. Sneaks made new friends when Thompson took him to her pet-friendly office. "Everyone was so impressed by his calm demeanor and friendly personality."
Sneaks now mostly stays close by his human companions' side — even when he goes with Howard to explore the outdoors, wearing a harness and leash. "Having a senior cat has been amazing for us," Thompson said. "Anytime someone's looking to adopt a pet, it's important to have an honest idea of one's lifestyle and what age of pet is best for them. Sneaks is absolutely the perfect cat for us because he fits in so perfectly with our lifestyle. The health issues are just a small piece, we just love him so much. I think he has a lot more life in him."
The Animal Welfare League of Alexandria, which operates the Vola Lawson Animal Shelter on contract with the City of Alexandria, is an independent, local, 501(c)(3) non-profit organization. The AWLA is committed to ending animal homelessness, promoting animal welfare, and serving as an educational resource for the City of Alexandria community. More information is at AlexandriaAnimals.org.