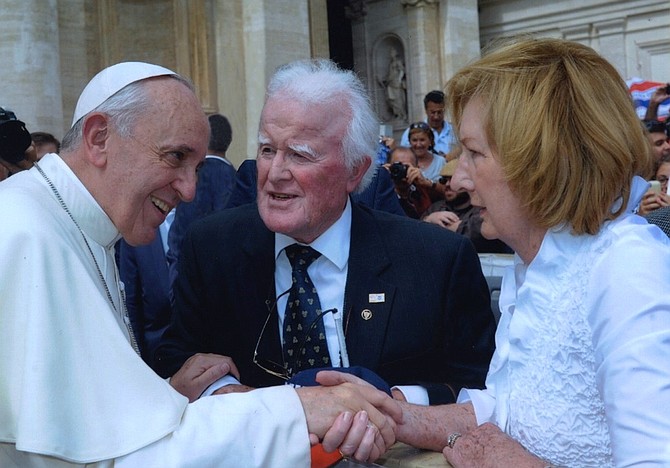 Pat Troy was larger than life. An Irish immigrant who never went to high school, he became one of Alexandria's most colorful and beloved citizens as owner of Ireland's Own Irish Pub and Restaurant. On March 22, just days after serving as Grand Marshal for the St. Patrick's Day parade he founded 37 years ago, Troy died following a brief battle with cancer. He was 76.
"Pat Troy truly was an Alexandria Living Legend," said Mayor Allison Silberberg of the honor that was bestowed on Troy in 2010. "He was a prominent business leader, the founder of the parade and a dear friend. It really is incredible the impact he had on this city and the story of his life mirrors the American Dream."
Patrick Ronald Troy was born July 12, 1941, in Oxford, England, to Michael and Kathleen Troy. The eldest of three sons, his parents moved to England from Kilcormac, in County Offaly, Ireland, soon after their marriage and returned to Kilcormac a few months after Troy was born.
"My parents always wanted us to know where we came from and how important it was for us to be Irish," said Troy's daughter Kathleen Molloy. "Every summer Dad would take us back to Ireland. He never forgot his family or his heritage."
As a teen, Troy worked as a butler at Birr Castle for five years, where he met an American tourist who offered to sponsor him for his move to America. In 1961, he immigrated to Washington, D.C., where he met his future wife Bernadette the following year.
"My parents met at a dance," Molloy said. "Mom was the first woman he laid eyes on and for them, it was love at first sight."
The couple married in 1966 and together purchased the Irish Walk Import Store in Old Town in 1974. In 1980, Troy opened Ireland's Own Bar and Restaurant, where for many years he hosted the diocesan Theology on Tap series for young adults.
"Any Catholic in their 20s-40s knows Pat through Theology on Tap," said Ken Wolfe, who met his wife Amy at one of the Monday night events. "Pat went out of his way to be a proprietor, not just a restaurant owner. He had a gift for getting people to meet their neighbor. He leaves Old Town with so many wonderful memories."
Upon first arriving in America, Troy worked as a butler serving the elite including the Kennedy family. He went on to sell insurance before beginning his business ventures in Old Town. He appeared on "What's My Line?" in 1963 and was the host of The Irish Radio Show for 45 years. For 35 years, he was the proprietor of Ireland's Own Restaurant & Pub and was famous for his rendition of "The Unicorn."
Troy founded two divisions of the Ancient Order of Hibernians and was a member of The Equestrian Order of the Holy Sepulchre of Jerusalem and of the Knights of Columbus Fitzgerald Council 459. He was involved with the Rose of Tralee for 20 years.
Through his involvement with Project Children, he helped bring Catholic and Protestant children to the U.S. during the summer to escape the conflicts in Northern Ireland. He was active in both the local and Irish communities and was a longtime parishioner of the Basilica of St. Mary in Old Town.
According to Molloy,the highlight of Troy's life was entertaining President Ronald Reagan at his pub in 1988 and meeting Pope Benedict and Pope Francis. In 2017, Troy was the first recipient of the Irish Spirit award given by the Washington Nationals baseball team.
In 2011, Troy published his autobiography, "I Have a Story to Tell," describing his life as a butler, businessman, Irish-American and Catholic. He was involved in the Old Town Civic Association and served on the board of governors with the Alexandria Chamber of Commerce and the Alexandria Visitor Center.
"Dad was equally as proud of being American as he was being Irish," Molloy said. "You wouldn't believe the number of American shirt and ties we are finding in his closet."
Troy is survived by his wife of 52 years, Bernadette, his children, Kathleen and Patrick, son-in-law, Alan Molloy, daughter-in-law, Dow, and granddaughters, Mairead and Reyha. He is also survived by his brothers, Michael and Desmond of Kilcormac, County Offaly, Ireland.
A celebration of life will be held Friday, April 6, from 6 to 8 p.m. at Demaine Funeral Home, 520 S. Washington St. A Mass of Christian Burial will take place Saturday, April 7 at 11 a.m. at The Basilica of St. Mary, 310 S. Royal St. Interment immediately following at St. Mary's Cemetery, 1001 S. Royal St. In lieu of flowers, donations may be made to St. Ann's Center for Children, Youth & Families, 4901 Eastern Ave., Hyattsville, MD 20782 and Christ House 131 S. West St., Alexandria, VA 22314.
"Dad always wanted to go out in a blaze of glory and by God he did," said Molloy of losing her father just days after the St. Patrick's Day Parade. "But hard as it has been, to see the love between he and my mother his last few days with us was just beautiful and something we'll hang onto forever."