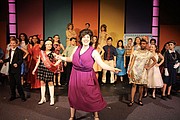 Hairdos and excitement were on the rise and Reston was shaking and shimmying when local students at Langston Hughes Middle School performed 'Hairspray JR.' The family-friendly show captured the spirit and turmoil of 1962 Baltimore through laughter, dance, romance, and tuneful songs.
"Hairspray JR." is a dynamic musical with an important message: that acceptance comes in all shapes, sizes, and nationalities. Through their production the students explored ideas like civil rights and discrimination in the context of a period of tremendous social and historical significance in the United States.
The story follows Tracy Turnblad (played by Claire Callaway), a full-figured girl with big hair and a big heart, who has only one passion – to dance. When her determination and rock 'n roll moves land her a spot on a local television dance program, she is transformed from an outsider to an irrepressible teen celebrity. This trendsetter in dance and fashion uses her fame to win the affections of heartthrob Link Larkin (played by Michael Norford), challenges the program's reigning princess Amber (played by Danielle Kessler), and rallies against racial segregation.
Director: Cheryl Dewenter; Musical Director -- Sarah Milhoan, Choreographers -- Grace Yakubisin and Karina Yakubisin.