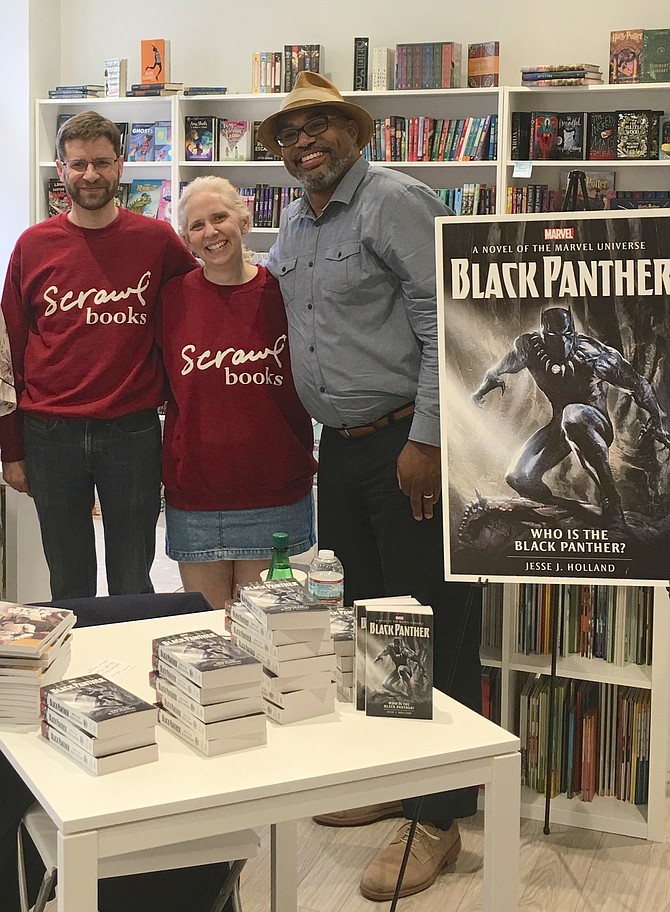 On the eve of Small Business Week, Scrawl Books celebrated Independent Bookstore Day with author Jesse J. Holland, signing advance paperback copies of his sold-out novel, Who is the Black Panther?. It was an exclusive opportunity for Reston, and the store's third author visit that day.
Since opening in Reston Town Center in November 2016, Scrawl has hosted scores of events with authors, performers and community groups. It also occupies a Pop-Up at the Wiehle-Reston Metro station.
"Independent bookstores play a unique role," said store owner, Rachel Wood. "We are part of the community we serve, and connected to our customers through schools, neighborhoods and common experiences. Our business is built on creating connections and responding to community interests."

Wood spent more than 20 years as a librarian and collection development specialist, forging relationships with authors and publishers. Today, the bookstore enjoys frequent visits from best-selling writers like Holland, and Newbery Award winner Kwame Alexander. Alexander launched his collaborative novel, Solo, at Scrawl and ensured the store would be a priority stop on his recent book tour.
Scrawl's schedule includes book launch parties, discussions and signings with well-known authors like L. M. Elliott, Erin Teagan and Jessica Spotswood; workshops; and fundraisers for local schools and organizations. The store posts "Staff Picks," book reviews and recommendations that customers often commend.
"I'm happy to see Reston gain recognition as a place that embraces books and reading," Wood said. "I'm grateful for the support Scrawl has received from the publishing community, as well as our local readers and writers."